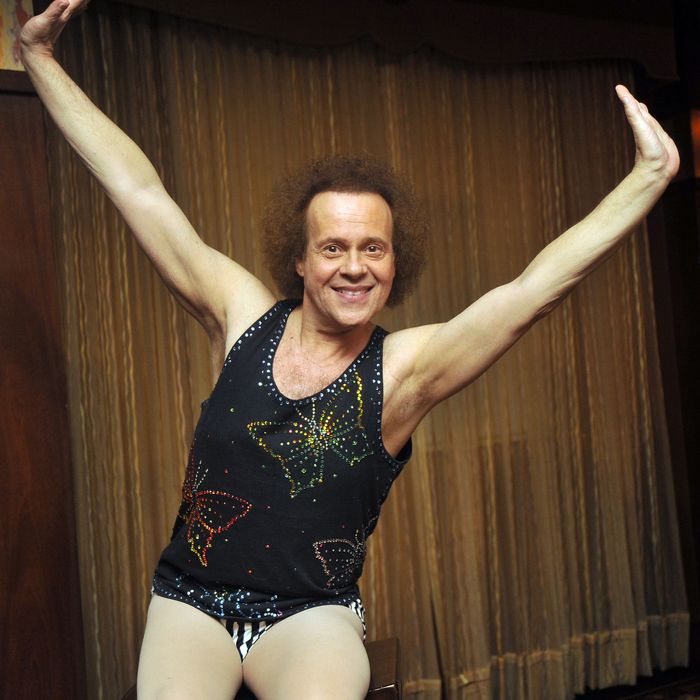 Photo: Bobby Bank/WireImage
Richard Simmons posted his first Facebook update since returning home from the hospital last week. The fitness guru went to Cedars Sinai Medical Center with a case of "severe indigestion" last Monday, according to People, and returned home Thursday with help from LAPD detective Kevin Becker and his housekeeper to avoid the paparazzi. (Simmons was the subject of the recent podcast Missing Richard Simmons, which delved into his disappearance from the public eye.)
Hope you're having a beautiful Sunday. I wanted to take a moment to send a big thank you to the wonderful doctors, nurses and staff at Cedars Sinai Medical Center during my short stay there this week. They make you feel good even though you're in the hospital for feeling bad.

Another shout out goes to the wonderful men and women of the Los Angeles Police Dept. They were so helpful and kind as I returned home.

Let's take a minute and all be thankful for medical professionals, police, firefighters and our brave military forces here and around the world. They risk so much every day to make us well and keep us protected.
Becker told People, "He looks really great … He is getting older like all of us but he is in good shape. He is in great spirits. He was laughing and joking and talking. He is very friendly, very funny," adding, "He is just fine. He is just a private guy now," he said. "If he wants to go somewhere, he goes."