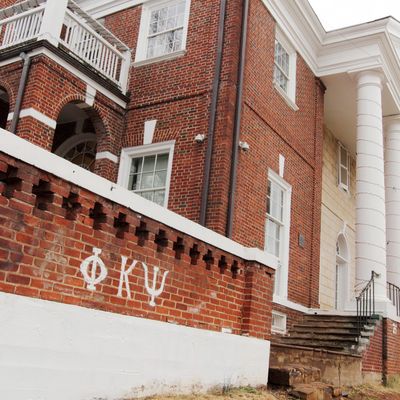 The Phi Kappa Psi fraternity house at UVA.
Photo: Jay Paul/Getty Images
Rolling Stone has agreed to settle a lawsuit filed by a former University of Virginia associate dean, Nicole Eramo, who claimed the magazine defamed her in a now-retracted article about an alleged gang rape on campus, the Washington Post reports.
The lawsuit, concerning a debunked 2014 story called "A Rape on Campus," accused the magazine and journalist Sabrina Rubin Erdely of painting Eramo as being unsympathetic to campus sexual assault, according to the New York Times. The confidential settlement, announced on Tuesday, comes months after a federal jury in November awarded Eramo $3 million in damages, which both the magazine and Erdely appealed.
"We are delighted that this dispute is now behind us, as it allows Nicole to move on and focus on doing what she does best, which is supporting victims of sexual assault," Libby Locke, one of Eramo's attorneys, said in a statement. A spokesperson for Rolling Stone's parent company, Wenner Media, called the settlement an "amicable resolution."
Eramo, who served as UVA's associate dean of students, sued Rolling Stone and Erdely in May 2015, over her portrayal in their November 2014 cover story, seeking $7.5 million in damages. The administrator was portrayed in the story as indifferent to the narrative's victim, "Jackie," and of discouraging her from reporting the alleged gang rape at the Phi Kappa Psi fraternity house to police. Rolling Stone retracted the story in April 2015, after the Columbia Journalism Review published a 12,000-word report condemning the article as a "journalist failure that was avoidable."