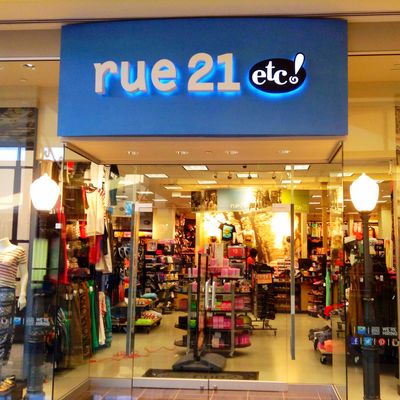 Rue 21 will be closing 400 stores nationwide.
Photo: Mike Mozart/Flickr
Like many other mall-rat hubs of yore, Rue 21 announced that it will close hundreds of its locations nationwide.
The retailer's website shows 400 new closures. A spokesperson for the brand told Women's Wear Daily that the store was working with "lenders and bondholders to find the best solution to the company's need for more capital and for a business model with less debt." Rue 21 previously went bankrupt in 2002, before changing its name and going public.
It isn't the only retailer struggling. Contemporary teen retailers (Guess, Abercrombie & Fitch, and Aéropostale) and stalwart department stores (J.C. Penney, Sears, Macy's) have also had major closures this year. Ralph Lauren announced on April 4 that its Polo flagship store on Fifth Avenue would close. While many of these retailers, including Rue 21, cite the need to cut costs by "diminishing store footprint," online retail may not be the culprit. Most shoppers prefer shopping in brick-and-mortar stores, and the Census Bureau reported that e-commerce accounts for just 8.1 percent of retail sales. This particular Catch-22 of shopping has shuttered the sites and windows of many brands, from Nasty Gal to BCBG Max Azria. In the meantime, prom dresses and denim cutoffs are still flowing out of Rue 21's website.