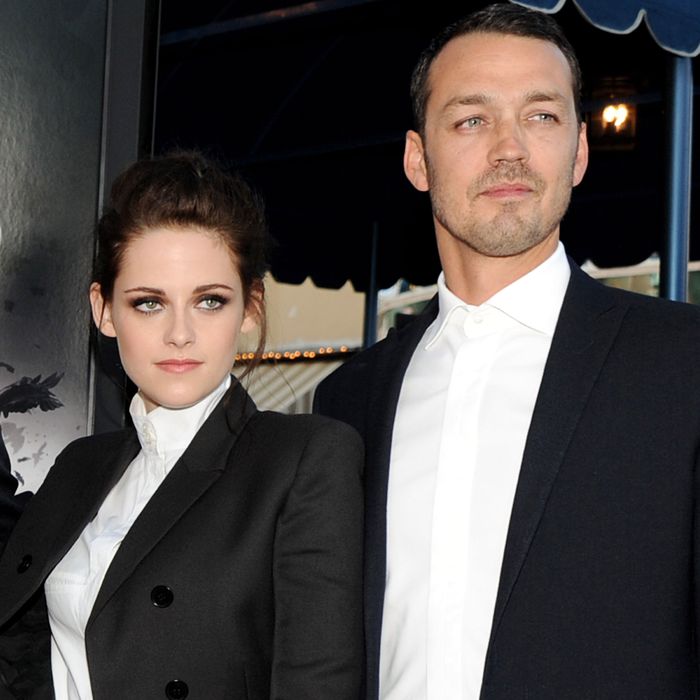 Kristen Stewart and Rupert Sanders before news of the affair broke.
Photo: Kevin Winter/Getty Images
Back in 2012, Donald Trump took to Twitter to air his frustration over a certain issue: Kristen Stewart's breakup with Robert Pattinson. You see, Trump was furious that Stewart had an affair with her Snow White and the Huntsman director Rupert Sanders (who was actually married at the time to her Snow White co-star, Liberty Ross). Beyond Trump's Twitter ire, the scandal also made headlines, prompting both Stewart and Sanders to issue short public apologies. And now, five years later, Sanders is finally speaking out about the affair in a new interview with Metro.
To refresh your memory, news of Stewart's affair with Sanders broke in July 2012, when Us Weekly published pictures of the pair kissing and hanging out in nature together. At the time, Stewart said in a statement that she was "deeply sorry for the hurt and embarrassment" that the affair had caused, while Sanders said in a statement that he was "utterly distraught" about the pain he had caused. And, of course, Trump tweeted, "She cheated on him like a dog & will do it again — just watch."
Speaking with Metro, Sanders opened up about the affair this week (albeit in vague terms). "You never know what's coming in life," Sanders said. "Around every corner there's something unexpected, and that's life. You just have to brush yourself off and continue moving forward the best you can. Everyone makes mistakes. I am bound to make more mistakes and I wouldn't expect my life to be exciting if I didn't."
The Ghost in the Shell director and Ross worked on repairing their 11-year marriage after the affair, but ultimately ended up getting a divorce.
Trump has not yet tweeted about Sanders's comments as of press time, though we're sure there are already multiple drafts in his Twitter app.