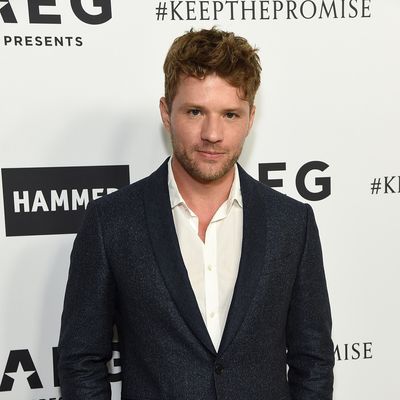 Ryan Phillippe.
Photo: Michael Kovac/Getty Images
In case any Katy Perry fans out there were getting their hopes up about her having a new man in her life, well, we can definitely rule out at least one potential bachelor. Ryan Phillippe went ahead and made a public announcement on Sunday to let the Twitter crowd know he's definitely not dating Katy Perry. So, could the paparazzi please leave him alone?
Rumors of a romance between Phillippe and Perry emerged last month after Elton John's birthday party. It was at Elton's party that Phillippe was seen going over to Perry's table and flirting, an anonymous source told Hollywood Life. "They were seated at separate tables but he made his way over to her and sat down next to her," the source told the site. "She was totally giggling and at one point he had his hand on her knee. Then he took off but came back late with for more flirting!"
Seems like Phillippe has kindly reminded us that flirting does not always result in a date.