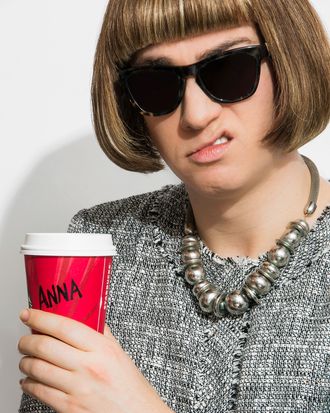 Ryan Raftery in character as Anna Wintour.
Photo: Andrew Werner
Ryan Raftery first performed as Anna Wintour in his musical Ryan Raftery Is the Most Powerful Woman in Fashion in 2014. But he hasn't been able to shake the bobbed, Starbucks-toting persona he created for the show, and now he's bringing it to Feinstein's/54 Below for a special two-night event to benefit the Trevor Project, which provides crisis counseling for LGBTQ youth.

"I was inspired to do this after President Trump's repeal of the transgender bathroom policy in our nation's schools," Raftery explained, "and desperately wanted to show my support in some small way." For the show, which runs April 27 and 28, he got fashion luminaries to donate items to an auction, and Wintour herself has contributed a pair of her signature Chanel sunnies. If you win, you'll have to accessorize them with your own Starbucks cup.