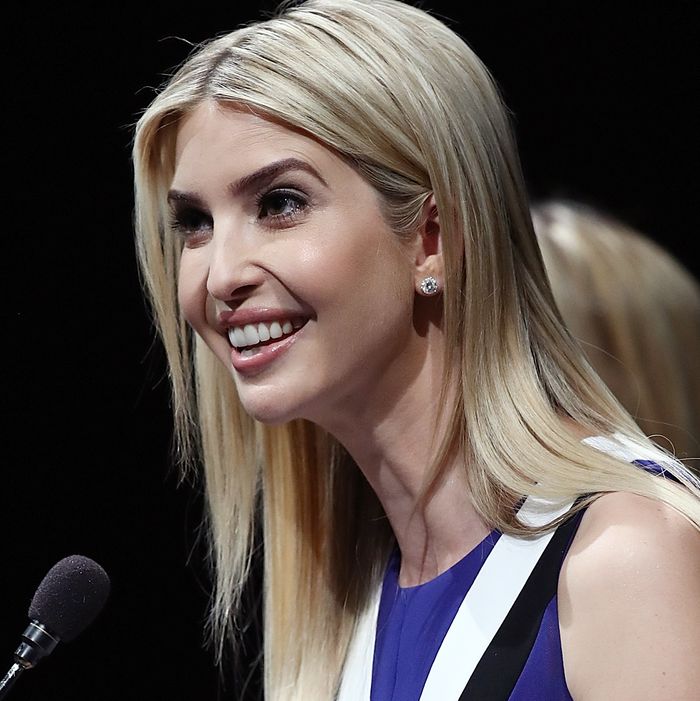 The First Daughter's clothing line is doing fine without her.
Photo: Win McNamee/Getty Images
It looks like Ivanka Trump's clothing line is doing just fine without her. Despite several major retailers distancing themselves from the brand (and Nordstrom dropping it altogether), an annual report filed by G-III Apparel Group, Ltd. — the company that manufactures the line — showed a $17.9 million increase in net wholesale sales of the brand's licensed products in 2016. According to the filing, the brand had $29.4 million in sales the year before.
What's more, G-III also cited Ivanka Trump's line as one of the brands that boosted its gross profit from $838.6 million for the 2016 fiscal year to $840.9 million for fiscal 2017. "This increase was primarily the result of a more favorable product mix, as well as an increase in gross profit for the Calvin Klein, Eliza J, Jessica Howard, and Ivanka Trump product lines," the filing reads. And a spokesperson for G-III told Refinery29 that, although Ivanka Trump isn't one of the larger brands it works with, it is one of the fastest growing.
This all tracks with CNBC's report in March that there was a post-election spike in interest in the First Daughter's brand:
The analytics firm, which tracks digital traffic, said average daily U.S. visits to IvankaTrump.com have increased 121 percent since Inauguration Day, as compared with the average beforehand.

That includes an 814 percent spike on Feb. 9 — the day after Trump sent his Tweet about Nordstrom, and the day top adviser Kellyanne Conway told Fox News viewers that they should buy the brand's products.

Even though Ivanka rolled her fashion line into a trust controlled by her brother- and sister-in-law, she's still getting payouts from the brand (which, by the way, is manufactured outside the U.S.). In other words, whether or not she's doing it on purpose, Ivanka is proving pretty adept at using her dad's presidency to sell stuff.