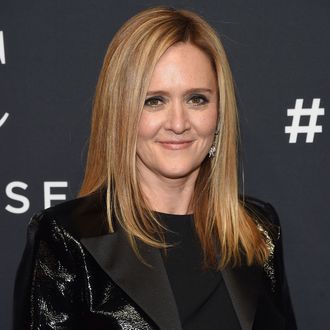 And you thought your mentions were a dumpster fire.
Photo: Jamie McCarthy/Getty Images for IWC
As a political satirist and professional Trump skewerer, Samantha Bee has seen her not-always-fair share of trolling. And while her ability to dish what the trolls are serving right back at them weekly on Full Frontal might give the impression that she isn't unnerved by all the vitriol, Sam Bee's only human. In a long conversation with Lena Dunham, who knows all too well about being driven offline, Bee says she hasn't checked her Twitter mentions since the night Trump got elected president because the tweets nearly broke her. "I really felt a geyser of hatred. I just went off. I just went dark," she says. "Actually my assistant took my phone from me, and she changed my passwords on me, which I really appreciate because it was unbelievable. It was a torrent of hatred. That night, at about 10 o'clock, I could not believe what I was seeing in my mentions … And the days following the election were very hard. There were a million reasons why it was difficult, and it's been really difficult ever since."
So difficult that the most peace Bee's found in the months after was on a recent reporting trip to Riker's Island, where she had to surrender her phone: "I felt like I had gone on a Caribbean vacation. I emerged from Rikers, and everyone was like, 'Your skin is shining.' And it was because I've never been more relaxed. I felt so free just knowing that my phone was safe, but I wasn't allowed to see it or know what was happening in the world. It was the most free I've felt in months." Trump's America: where prison is the last place left to reclaim your sanity.