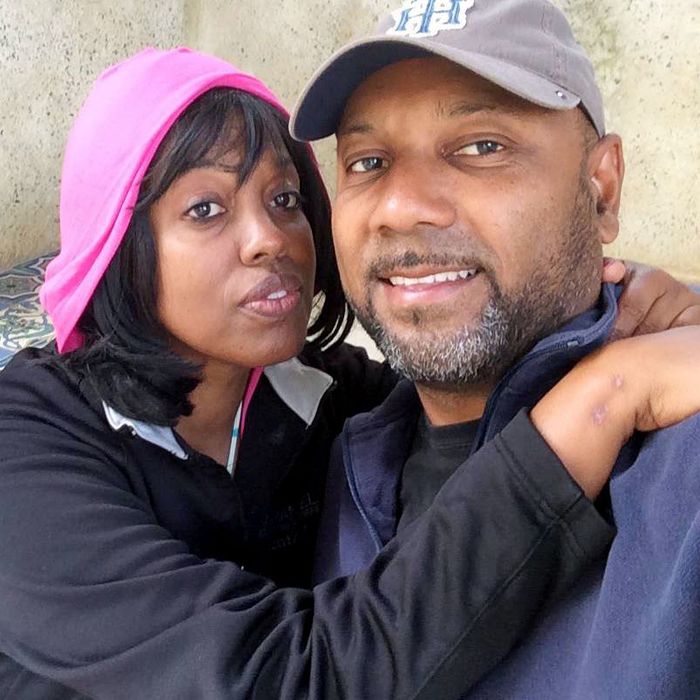 Cedric Anderson and Karen Smith.
Photo: Courtesy of Facebook/cedric.anderson.351
It's all on Facebook, still live and public for anyone to see. Cedric Anderson's wedding invitation from January 2017, a video of his bride and future victim Karen Smith walking down the aisle to him as he smiles, photos from their honeymoon, a video from that honeymoon where Anderson implores Smith, "Say how much fun you're having, baby." Just over two months later, he killed her.
On Monday, Anderson walked into North Park Elementary School in San Bernardino, where Karen was a special-needs teacher, and opened fire. He killed Smith and an 8-year-old, injured a 9-year-old, and reloaded the gun before fatally shooting himself. In the hours since, San Bernardino police chief Jarrod Burguan has shared that Anderson had a violent history, with battery charges and allegations of domestic violence stretching back over 30 years.
Smith herself had never reported him, but her family revealed that their 72-day marriage went sour quickly. "We thought he was a fine person," said Irma Sykes, Smith's mother. "Until they were married and he showed the other side of him. Which we had never seen before. We were shocked." She continued: "He began to pick on my daughter and talk down to her. And they had dated for four years. And after about three weeks, my husband and I decided, you need to get away from him." In mid-March 2017, a few weeks before her death, Smith left Anderson, moving in with her adult children.
What happened in those 72 days? The San Bernardino police investigation is ongoing, but what they've already released — that they found a handwritten note of Anderson's discussing his feeling "disrespected" — coupled with Anderson's Facebook page and Smith's family's comments provides a case study of domestic violence, and how different it can look from the outside.
Anderson lavished his wife with praise on social media. "What I love about my wife? Boy. She makes me really happy," he tells his computer camera in a video from February 27. He posted photos from date nights on March 4 and 10. He called Smith an "angel" on March 11, and shared a Sade video on March 12, noting "I'm getting loved like this." According to her children's timeline, this is the week that Smith moved out.
The effusive praise and charm is a classic manipulation tactic often used by domestic abusers. Public-health experts in Australia released a guide in 2016 called Charmed and Dangerous warning women that the charm offensive can be an early red flag for domestic abuse. A study out in February posited that narcissism has two phases in a romantic relationship: admiration, then rivalry, with the former trapping the future victim. "Admiration is characterized by the tendency to promote the positivity of one's self-view by seeking social admiration," noted researchers in the Journal of Personality and Social Psychology.
We've seen domestic abusers who can lay on the charm when they need to. Ray Rice and his wife went on an apology tour in 2014 after video emerged of him knocking her unconscious. His coach John Harbaugh even said, "I stand behind Ray. He's a heck of a guy."
That Anderson brayed about his marriage so publicly on social media is also a tactic that psychologists and sociologists call "impression management." A 2006 study of men accused of domestic violence found that they all engaged in impression management, but when taking questionnaires about their own behavior, the most vicious domestic abusers couldn't pretend very well. "Documented perpetrators of domestic violence still tended to score higher on specific measures of aggression despite their attempts to minimize," researchers wrote. "[T]hese individuals may be unable to estimate normal levels of aggression for the purposes of impression management."
Sometimes the partner on the receiving end of the abuse even participates in her significant other's impression management; consider the story of Christy Mack, who sat ringside at the MMA matches of her then-boyfriend War Machine, smiling for the camera even though he was beating her at home. Eventually, he broke 18 bones and punctured internal organs in one particularly brutal beating.
Anderson's ability to control his own social-media image cracked regularly. Every few days, he would share Biblical memes or quotes from his favorite social-media minister, Tera Carissa Hodges. "From this day forward i will condemn the thoughts that the devil sends to penetrate my mind and confess that i will defeat the enemy, by the blood of jesus and the word of my testimony," he shared from Hodges on March 1. "THIS is the year (you can mark THESE here words and TAKE THEM TO THE BANK), BEFORE the year is out, your enemies will have retreated," said another Hodges post he shared on February 28. He shared pro-gun memes and bragged about "keeping his guns close." And then, the most chilling post of all, from last July: " The truth of the matter is when people get fed up, people get killed!" Anderson wrote. "Most fed up people kill the innocent. ISIS, Bad Cops, Mass Killers, Domestic Violence Killers.""
Still, posting enthusiastically about guns on Facebook is not an indication of a desire to commit murder. The greatest overlap between mass shooters and domestic violence is that the latter predicts the former. As Vox noted in January, some of the most headline-grabbing acts of violence in recent memory were by men who had been previously charged with abusing their partners: the Pulse nightclub shooter. The guy at Planned Parenthood. The man who shot into the audience at a Trainwreck viewing. The Boston Marathon bomber. George Zimmerman. In a study of hundreds of thousands of offenders, a felony domestic-violence conviction is the single greatest predictor of future violent crime against men.
While these domestic-violence episodes escalate to fatal violence again and again and again, Anderson's posts demonstrate how unobvious these perpetrators can be — and thus how difficult it is to stop them in time.
Of course, the cruel irony is that the most dangerous thing for a woman experiencing domestic violence to do is leave or seek police protection. Three out of four victims of homicide by their partner were killed as they attempted to leave or after they'd left. One third of homicide victims with a temporary restraining order are murdered within a month of getting that order. If an abused person lives in a house with a gun, their risk of being murdered jumps 500 percent.
So we'll hear much more about Cedric Anderson and Karen Smith, but that's because her abuser attacked her in an elementary school and claimed another victim. Three women die every single day at the hands of a partner. Smith is just one very public example.