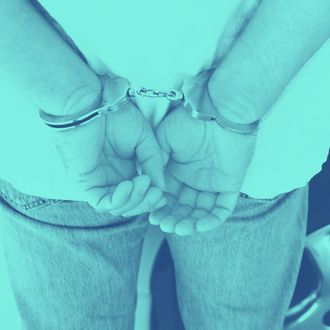 Photo: Greg Vote/Getty Images
As you have probably heard, there's a lot wrong with America's criminal-justice system. The problems range from deeply ingrained racial biases to the fact that people are often locked up for ridiculous lengths of time for nonviolent drug offenses. So it's nice, once in a while, to read about a place that's taking a more enlightened and progressive approach.
Take a story in today's New York Times about San Francisco's Young Adult Court, which is billed as an alternative to incarceration for at-risk young adults who get into legal trouble. It's the brainchild of George Gascón, the city's district attorney, and Wendy Still, who was probation chief when the program was founded in 2015. Gascón was inspired to start the program, described as "a hybrid of the adult and juvenile justice systems tailored to the biology and circumstances of offenders 18 to 24," "[a]fter attending a lecture at Harvard on brain development."
The main goal of the program is to try to keep these young offenders out of the criminal-justice system by factoring in what researchers know about the relatively less developed decision-making and impulse-control capabilities of people in that age range. In one case involving a 21-year-old young man named Shaquille who was facing a felony assault charge that could have easily landed him in prison in light of a past misdemeanor assault conviction, "For about a year, he would go to the court weekly to check in with Judge Bruce E. Chan. Court administrators would coordinate employment, housing and education support for him. He would attend weekly therapy sessions and life-skills classes." If Shaquille can get through the program successfully, his felony will be reduced to misdemeanor, which could have a profoundly positive effect on his long-term life prospects.
As the Times explains, programs like this one are part of an ongoing revolution in cognitive science. For a long time, "scientists assumed brains were fully developed by age 18." Then, a famous 1999 MRI study by Jay Giedd, followed by an avalanche of other research, showed convincingly that it actually takes much longer than that — sometimes seven years longer — for the young-adult brain to fully develop. All of which makes it more tragic and nonsensical how often the U.S. charges young offenders as adults. It's such a big problem here, in fact, and such an an aberration from how the rest of the world deals with young offenders, that it's attracted the sustained attention and criticism of organizations like Human Rights Watch.
Even setting aside the question of morality, programs like Young Adult Court are probably a lot cheaper than more punitive approaches. There's no data on this front in the Times article, likely because the program is so new, but if it works as advertised (again, it's too early to say) it will likely save San Francisco a lot of money — or it's hard to imagine how it wouldn't given the per-day cost of incarcerating someone. The justice system is still early on in figuring out these sorts of more humane, science-informed approaches, and maybe they'll look quite a bit different in five or ten years, but for now this is a very promising approach to a difficult issue.