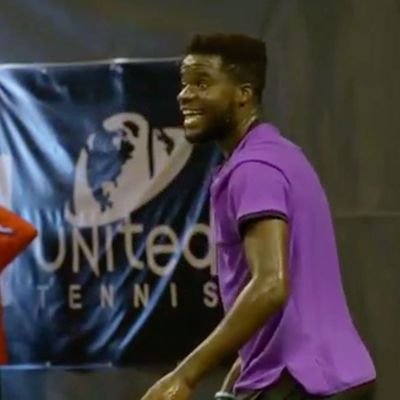 Tennis player Frances Tiafoe.
Photo: Courtesy of YouTube/Foam A. Lime
On Tuesday, a tennis match at the Sarasota Open was briefly interrupted by the instantly recognizable sound of very loud sex.
During a match between Frances Tiafoe and Mitchell Krueger, the sounds of two people getting it on could be (very obviously) heard in the otherwise quiet stadium. In the video below, the sounds can first be heard around the 0:15 mark, though they pop up again around the 1:50 mark as well.
Both of the players looked amused, with Krueger even hitting the ball in the direction of the noise and play-by-play commentator Mike Cation saying, "I can still hear it. It's still going. What is going on?" Tiafoe eventually exclaimed, "It can't be that good," and the crowd erupted in laughter.
As Deadspin points out, Cation at first suggested that the sounds were coming from an "adult video" on a spectator's phone, though he later concluded that the sounds were coming from an apartment across the lake.
Tiafoe ended up winning the match 6-3, 6-2. May the happy couple go on boning and never, ever apologize.