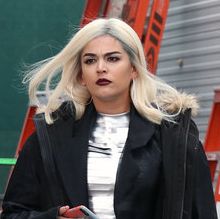 Cecily Strong as Kendall Jenner.
Photo: Becky Vu/©2017/NBC
Saturday Night Live took aim at this week's Pepsi ad snafu with a look behind the scenes as the writer/director comes to realize just how big of a mess he's got on his hands. Beck Bennett is perfect as the clueless dude who is proud of his big commercial debut until he fields a call from his sister just minutes before they begin filming. "Oh … Got it. We're just kind of using them to sell soda? Right. Gonna be bad," he says, his face dropping. Then Cecily Strong strides onscreen as Kendall Jenner and, well, see for yourself.