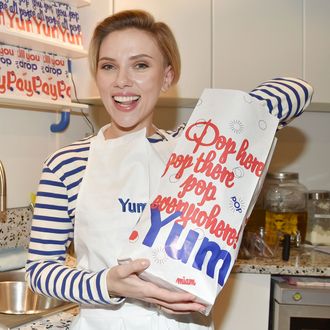 Scarlett Johansson.
Photo: Pascal Le Segretain/Getty Images for Yummy Pop
Popcorn is pop corn in French. Like other American transplants, including CrossFit (Cross Fit in French) or chia seeds (chia), pop corn is one of those things that hasn't widely ingratiated itself in the French language or culture. If we're still subscribing to the notion that the French at large are different from Americans, then much like doing burpees for exercise or contouring your face, snacking — let alone snacking on popcorn — is yet another one of those American things that the French do not seem to do. Three square meals, yes. But narfing down a bag from a vending machine around 4 p.m., not so much. One brave American who also happens to be an international film star and an Avenger, Scarlett Johansson, set out to change this.
It's not every day that a Sexiest Woman Alive wants to open up a store devoted to flavored popped kernels, but that's what Johansson appeared to do practically overnight, about a year ago. Pictures of her and her husband launching Yummy Pop, a gourmet-popcorn shop in Paris's Marais suddenly appeared in the Daily Mail. Movie stars endorse perfumes, open networking clubs for children, stump for political candidates, have workout DVDs, start green- or curated-lifestyle empires, but an independent, slightly kitschy, snack concept shop in a country where they don't even snack? Non. But "it has been a dream of mine and my family for several years to bring our favorite American snack to our favorite European City!" Johansson said in a statement at her store opening. Maybe her culinary ambitions sound unusual, but look at George Foreman and the bottle of Newman's Own Creamy Balsamic Vinaigrette that's inevitably in your shared company fridge.
Although the trendy and old-school Marais district has been modernized a bit, Yummy Pop and its American sense of commerce stands out. The design is heavily Americana-influenced and has the feel of an old-fashioned soda shoppe, with a red-white-and-blue-striped theme. And yes, the shop also only sells fresh, gourmet popcorn, a concept which some of the French have called "tres bizarre."
"Bonjour!" said a friendly Yummy Pop employee from behind a counter, featuring clear cases of le pop corn.
If you came to Yummy Pop hoping for a piece of Johansson or Black Widow branding, you would leave disappointed. Unlike the Dash store in New York City or even the Goop pop-up, visual signs of its owner's presence are hard to come by. There's no one passing out Johansson water, the walls are white and not plastered with murals of Johansson's face or even of popcorn, there isn't a picture of ScarJo grinning toothily while eating popcorn (probably the better for it, everyone knows popcorn gets stuck in your teeth), and there is no ScarJo merch. There is Yummy Pop merch though, cute white baseballs caps and T-shirts with a soft gold lettering with the brand's cursive logo.
"Is popcorn popular in Paris?" I asked the clerk, surveying the shop, which wasn't busy, unlike the queue that snaked down the block at the legendary L'As du Fallafel, which was two minutes away. Clearly the tourists did not get the memo that Natasha Romanoff popcorn was ready and popped for the buying without hassle.
"No. It is not. But here we are," she says matter of factly.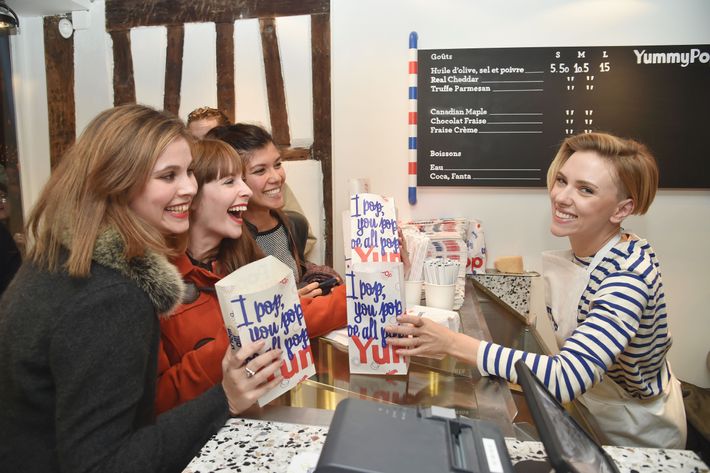 Scarlett's sole presence is on the store's board of flavors, which proclaims that among the offerings like olive oil, strawberries, cheddar, strawberry chocolate, "Scarlett's favorite" is a mix of Vermont maple and truffle parmesan. Behind the counter, I see giant mason jars of amber-colored liquids, which the clerk tells me contains the flavorings. I ask for a small of each of Scarlett's two favorites.
The clerk pulls out a bag that is equivalent to a Costco small.
"That's a small?" I marvel.
"Yes. Perhaps it is an American small," the clerk deadpans. It's six euros.
Later that night, I munch on the popcorn while watching a Scandal rerun. Those expecting the artificial-yet-addictive flavorings of Christmas popcorn tins, which stain your fingers bio-hazard orange, would find Yummy Pop disappointing. When I first tasted it, I even thought it was stale because I was expecting the extra glaze and crunch of a Garrett's popcorn. But then I realized that Yummy Pop is American popcorn French-ified. More accurately, it is hipster Brooklyn popcorn French-ified. One time on the free table at work, there was a bag of Pipcorn — that's what Yummy Pop tasted like, like artisinal small-batch popcorn painstakingly made in small quantities with subtle, natural or "clean" flavoring that wouldn't offend the French palate accustomed to fine, soft, aged cheese. Unlike the unnatural pillowy-fluffy texture of the $2 Smartfood White Cheddar popcorn I used to save up my elementary-school lunch money to buy or the taste of slightly stale movie theater-popcorn masked by liquid-butter "flavoring," Yummy Pop tastes, well, like actual corn. Even the truffle, a flavor not exactly known for its subtlety, was delicate and didn't leave me with a sodium hangover. I finish the rest of my salty and sweet bags of popcorn, praising its "small" size after a Fashion Week party where the only "food" was pastel macarons and thumb-size chocolate tarts.
Johansson has also said of Yummy Pop, "My hope is for Yummy Pop to become a Parisian snacking staple and a symbol of friendship between my two most beloved cities, Paris and New York." It's tasty. And if generous portion sizes of delicious snacks are what it takes to bridge friendship between Paris and New York, particularly as our political climates begin to look more and more similar, let's all Yummy Pop. Vive le pop corn. Maybe a kettle-corn flavor can be a friendship flavor or pour la relation amicale.