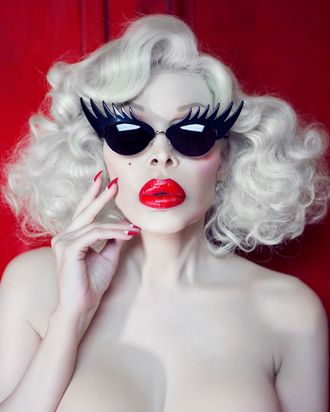 Amanda Lepore.
Photo: Photographed by Vijat Mohindra
In her new memoir Doll Parts, transgender model Amanda Lepore details her path from growing up as a scrawny boy in New Jersey to achieving fame as a New York City go-go dancer (and an oft-nude guest at fashion parties). The book features portraits and fashion spreads by photographers like Rob Lebow and David LaChapelle. With co-author Thomas Flannery, Lepore begins by recalling her early years of being bullied in school while her mother grappled with paranoid schizophrenia.
"I accepted her mental illness, the same as she accepted my femininity," she writes. Her father was not so welcoming, forcing her to cut her hair short and hide her Barbie dolls. At age 15, Lepore met a transgender stripper who helped her access hormone pills and begin transitioning; she had a sex-reassignment surgery at age 17. After landing in New York, she became a nightlife fixture as one of the "Club Kids" and launched her career as a performance artist.
Lepore candidly shares her experiences from working as a dominatrix, as well as her cosmetic-surgery history, but she doesn't shy away from side effects that came with her lifestyle, like having to sleep sitting up for six months after a waist-shrinking procedure. Through it all, she maintains an unapologetic sense of self, which resonated with her audience: "I went from being a spectacle to getting respect. People seemed to have a better understanding of me," she writes. Lepore offers advice to transgender teens as well: "Whatever you decide to do, do it legally, with a real doctor. When I was going through it, there were a lot fewer resources for transgender youth. Don't use my risky decisions as your excuse."
Click ahead to see images from the book, out this week from Regan Arts.
If you buy something through our links, New York may earn an affiliate commission.