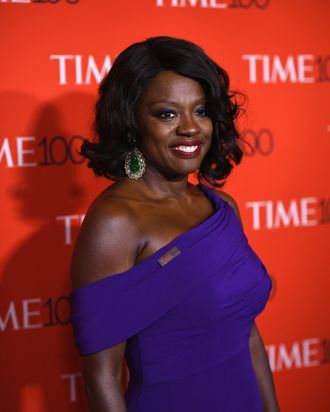 Viola Davis.
Photo: Dimitrios Kambouris/Getty Images for TIME
You may find this hard to believe, but Viola Davis wasn't always the perfectly confident font of inspiration and boundless talent and beauty that appears before us today. In fact, she might very well not have become an actress, let alone the first black actress to win an Oscar, Emmy, and Tony, had it not been for a tribe of women in a rural village in West Africa.
See, back when Davis was 25, having moved from Rhode Island, where she'd grown up as a member of the only black family in the small city of Central Falls, she was in New York going to Juilliard. "Not a very good experience, by the way," she said at the Time 100 Gala on Tuesday. "And I remember at one point, I felt like I lost my voice as an artist. I said, 'Who am I really?' You know, 'What am I doing here?' You know, 'How am I going to be different from everyone else?'" So she somehow roped Juilliard into paying for her to go on a cultural safari to Africa, specifically the Gambian compound of the Mandinka tribe, where she met a group of women called "Kenyala," who were performing a ritual of drumming and shouting and eating a dish that tasted like peanut-flavored oatmeal. And then more people came, screaming and shouting, hundreds of people — men, women, children — falling over each other. "And they'd sing this song that translated into: 'I did not come here for food. My stomach is full. I did not come here for food. I came for much more than that.'" Davis was standing in a room full of other people who'd been named the most influential in the world, such as Riz Ahmed and the organizers of the Women's March. She'd been asked to give a toast to someone who influenced her.
The women, she discovered, were infertile. "In the Gambia," said Davis, "the biggest blessing you could possibly have is to be able to have a child. And these women felt like the only reason why they weren't blessed with a child is because God did not hear their wish. And so the whole point of the ritual was to make as much noise as possible so God could hear them, and pour down the blessing."
Davis found herself overwhelmed with the beauty of this ritual and the fact that it was about these women taking action to try to get what they wanted, with the entire compound coming together to help them make noise. "The beauty of that ritual was the people who were surrounding these women who said, 'You know what? God didn't hear you, did not see you, and I'm going to make sure that he does. I'm going to do my part in your life to make sure that he, she, hears you.'"
And that's when Davis realized that realized that trauma and the strength one gets from surviving trauma can be used to connect with and help others — "and that is the beauty and the purpose of what we are here on this earth to do."
The whole inspiring Viola Davis experience is below. Man, does she know how to give a toast.