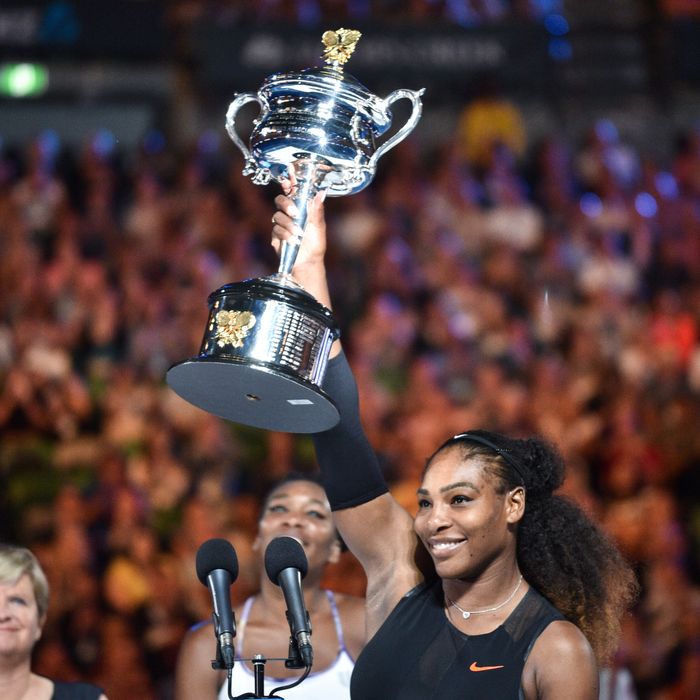 Serena Williams at the Australian Open.
Photo: PETER PARKS/AFP/Getty Images
Serena Williams, one of the greatest athletes of all time, revealed on Wednesday that she's 20 weeks pregnant with her first child. That means she was around eight weeks pregnant when she won the Australian Open in January, which caught the attention of several news outlets. The Independent wrote, "News that she won a record seventh Australian Open while pregnant will have to go down as one of her greatest-ever achievements," while the BBC described early pregnancy for other women: "Getting out of bed? Possibly. Making it to work? Maybe. Eating breakfast? Forget it."
Some women are indeed laid up by pregnancy symptoms, but many others are not (or can't afford to be). Here, a list — by no means extensive — of women who continued their normal activities while pregnant.
• Lynsey Addario worked as a photojournalist and war correspondent in Africa, the Middle East, and Asia throughout her pregnancy.
• Beyoncé performed numerous dance-heavy numbers when pregnant with her daughter Blue Ivy Carter in 2011.
• Alysia Montaño ran the 800-meter race at the U.S. track and field championships in 2014 while 34 weeks pregnant.
• Dr. Pratima Gupta, an OB/GYN, continued to perform abortions during her pregnancy — even when she was at the same stage of pregnancy as her patients.
• Journalist Elizabeth Rubin embedded with U.S. troops in Afghanistan at four months pregnant.
• Nikki Caldwell, the coach of the Louisiana State University women's basketball team, gave birth in between the SEC and NCAA tournaments in 2012.
• Volleyball player Kerri Walsh Jennings won her third gold medal at the 2012 Summer Olympics in London while five weeks pregnant.
• Marathoner Paula Radcliffe continued to run while seven months pregnant.
• Ang Dami Sherpa of Nepal won the high-altitude Mount Everest marathon in 2013 at three months pregnant.
• Lisa Brown-Miller helped the U.S. women's hockey team win the gold medal at the 1998 Olympics in Nagano at eight weeks pregnant.
• Alison Hargreaves climbed the north face of the Eiger mountain in the Alps — one of the most famous peaks in the world — at six months pregnant in 1998.
• Major Stephanie Kelsen, an Air National Guard commander, continued to work as a fighter pilot during her pregnancy.
• Senator Kirsten Gillibrand, then a congresswoman, spent 12 hours on the floor of the House of Representatives before going into labor with her second child in 2008, becoming only the sixth woman to give birth while serving in Congress.
• Marissa Mayer announced she was pregnant the same day Yahoo announced her appointment as CEO.
• Justice Ruth Bader Ginsburg attended law school while pregnant.
• All pregnant workers who keep working as long as possible because they don't qualify for the Family Medical Leave Act, which protects women's jobs if they need to take time off before giving birth.