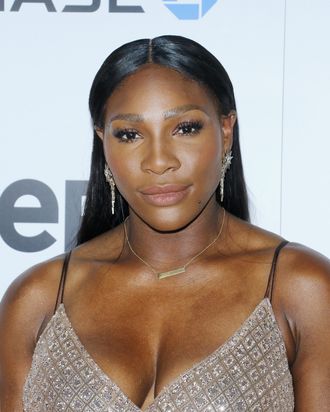 Serena Williams.
Photo: 2016 Jim Spellman/Getty Images
Shortly after Serena Williams announced she was pregnant with her first child, Romanian tennis player Ilie Nastase made a racist comment about the tennis star and her unborn child, prompting the International Tennis Federation to launch an investigation. On Monday, Williams took to Instagram to voice her support of the investigation, and to call Nastase out for his racist remark, in addition to slamming him for making sexist comments about her peers.
As ESPN reports, Nastase was overheard at a Saturday news conference saying of Williams's baby with fiancé Alexis Ohanian, who is white: "Let's see what color it has. Chocolate with milk?" Nastase hadn't been asked about Williams at the press conference, but his comment was audibly made to other players (in Romanian). The ITF immediately issued a statement saying that it "does not tolerate discriminatory and offensive language and behavior of any kind," and that it had begun an investigation before "taking further and appropriate action."
On Instagram, Williams expressed her disappointment in living in a society where people like Nastase can make such comments. "I have said it once and I'll say it again, this world has come so far and yet we have so much further to go. Yes, we have broken down so many barriers — however there are a plethora more to go," she wrote.
"This or anything else will not stop me from pouring love, light and positivity into everything that I do. I will continue to take a lead and stand up for what's right," she continued.
In the statement, Williams also wrote of "sexist comments" Nastase has made against her peers — presumably a reference to his having reportedly also called female tennis players Johanna Konta and Anne Keothavong "fucking bitches" on Saturday, as noted by the Telegraph's Simon Briggs. Williams went on to quote Maya Angelou's poem "Still I Rise," before thanking the ITF and saying that the organization has her "full support."