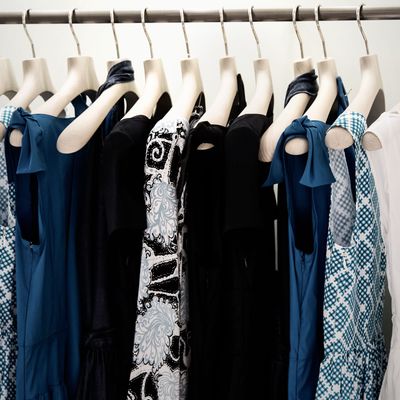 New York's Sex Diaries series asks anonymous city dwellers to record a week in their sex lives — with comic, tragic, often sexy, and always revealing results. This week, a stay-at-home mom on a date with a sexy European: 40, married, straight, Soho.
DAY ONE
7 a.m. Our 3-year-old twins wake us up early. They're up around 6:30, but we don't get them until 7. Mornings are always hell. My husband isn't great about getting the kids. But he isn't great about anything. We'll get there …
8 a.m. I make my kids eggs and toast while my husband drinks coffee and reads the paper. He helps me very little. I do have a nanny, but she doesn't arrive until after my kids come back from nursery school, 3 p.m. I like making my kids their own breakfast; I'm their mom. I would like to do everything alone with my kids, without any nanny or help, but it is almost impossible. My husband is the financial provider — but that's about it.
8:05 a.m. He is off to work at his law firm. He always goes downstairs and catches a taxi. He doesn't have an Uber account — I think it's because he knows he'd get caught doing bad things if his whereabouts were tracked. When I say "bad things" I don't necessarily mean cheating … I mean more like, when he comes home at 11 p.m. and says he was working late at the law firm. An Uber receipt, I bet, would probably show that he'd been out drinking with his friends since 8 p.m. I'm not an idiot. And I'm not a doormat. I just don't even bother anymore.
9 a.m. I get the kids to nursery school. It's not a pretty scene, but I love them so much. It's fine. I have no right to complain.
10:30 a.m. I sit at Balthazar for breakfast. I do my emails here, breathe, etc. I also come to look for men. I want to have an affair. I feel like it's my own chance to have some fun romantically. I can't divorce my husband for financial reasons. I like the life he's provided for me, but I hate him. He hates me too. Somehow our hatred for each other has reached a place where it works.
6 p.m. Nanny, kids, play-date insanity, then time to cook dinner. I make dinner every night while the nanny winds down the kids. I love her so much. I would die without her. We pay her well and handle her health insurance. I'd give her anything she wanted and more.
7:30 p.m. Hug the nanny good-bye. Sometimes I want to cry, out of gratitude. I feel so alone most of time. She makes me feel like I'm not, sometimes.
9 p.m. The kids are asleep and I'm watching TV. There is one guy I text with a little bit, but I've really held back. He isn't officially divorced yet, and even though I'd be okay with having an affair, I'm not interfering with another woman's marriage. Does that make any sense?
11:30 p.m. My husband comes in, but I'm asleep. When we first met, we had a lot of fun. He is fun and really funny when he's not overworked and being a jerk. He was charming and liked to pamper me. I loved his family and could see a future with him. Funny how that all worked out.
DAY TWO
9 a.m. Wash, rinse, and repeat: kids, nursery school, Balthazar.
10:30 a.m. A guy from Barcelona flirts with me. I tell him I'm married and he cares … zero. He is very handsome, sophisticated, a little short, unmarried, wealthy, probably 40 or so. He is here for business (banker). I told him to text me for restaurant recommendations in Soho. Let's see if he does.
1 p.m. Roberto texted me. He invites me to a dinner of my choice. I text the nanny to see if she can work late tonight. I get very, very excited … I immediately want to shop.
2 p.m. I go to Barneys. The nanny said no problem. I'm meeting Roberto tonight, at Lupa. I can't explain how exciting this is. I love going to dinner; I love handsome men. My marriage is dead. I don't find anything to buy at Barneys, but I feel good — spring is definitely here.
4 p.m. I'm playing with my kids and in a great, excited mood.
5 p.m. Instead of his usual FaceTiming around this time, my husband comes home from work early as a surprise. I totally forgot when I asked her to stay late, but today's our nanny's birthday. My husband thought it would be nice to take her out to dinner as a family (no idea how he remembered her birthday). The kids are thrilled. Me, less so! I cancel on Roberto. He doesn't make me feel too bad about it. He says I owe him one. Sexy …
10 p.m. We all went to dinner — it was nice, actually. Kids had fun. Nanny ate at her favorite Italian restaurant. Marriage still dead.
DAY THREE
Noon I have never cheated on my husband, but I've met up with men, other dads, randoms like Roberto, for datelike experiences. I think because I don't really drink much (just not that interested in hangovers, bloat, feeling bad) things don't escalate like they might. I just like the flirting. I like having a crush. I'm not opposed to having sex with another man. I'm SURE my husband has had sex with other women during our ten years of marriage. I caught him early on and then stopped caring. Truly, I don't give a shit.
6 p.m. I think my nanny is a little hungover today so I don't want to ask her to sit the kids extra late. I tell Roberto that tomorrow night is free. He's here for two weeks, I remember him saying.
8:30 p.m. Roberto suggests dinner at the restaurant in the hotel where he's staying. This is a very provocative idea. I say yes! Having naughty thoughts while showering before bed …
DAY FOUR
7 a.m. My husband asks if I want to go on a vacation as a family. He had a dream about Tuscany, apparently. I say sure. We don't even kiss good morning. We have sex maybe twice a year if he's been really, really good at husband-ing.
Noon Before I had kids, I worked as a teacher at a New York private school. Seeing two friends from my teaching days for lunch. They're both engaged, and I have no idea what advice to give them. Many of my friends have very happy marriages. I do not. I just don't like him. Or maybe I don't know him. We never did therapy; we never cared enough to do it.
2 p.m. I get one of those quick facials to make your face super-glowy and then I go home to play with my kids. I'm not meeting Roberto until 8:30 for dinner, once the kids are asleep.
8 p.m. I'm nervous. My stomach is a mess. I go to the bathroom like six times before heading out the door. I text my husband that I'm having dinner with friends. He says, "Have fun!"
8:30 p.m. Roberto looks great and smells great. We talk a lot about my marriage. It's a faux pas, but he asks a lot of questions.
9:30 p.m. We are holding hands across the table. It's pretty forward, but he's so European, I just go with it.
10:30 p.m. Roberto invites me up, but I don't have the urge to go have sex with him. I politely decline. We kiss a little bit as I wait for an Uber (unlike my husband, I have an Uber account). Roberto is a great kisser — my body just isn't necessarily on fire. I'm ready for bed!
11 p.m. My husband is asleep. I take a bath and crawl into bed. I sleep on my side of the bed, and he sleeps on his.
DAY FIVE
8 a.m. Sometimes I can see it: My husband, in his own way, is a good dad. He is somewhat involved, considering he works so many hours. There's a party for the kids' school tonight at someone's apartment. We decide to meet there at 6:30 and have the nanny stay late.
11:30 a.m. I find myself shopping for something sexy to wear to this party … for my husband. I mean, I think it's for him. It's not for the boring perfect moms. I find something that I know he'll think is hot. He's really into boobs, "a tit man," and this dress is all boobs.
6:30 p.m. At the party, my husband and I are actually drinking Champagne. I drink Champagne occasionally. One to two glasses make me feel really good. I feel pretty. He looks good. Did I mention my husband is quite handsome? It's kind of like we ignore each other's existence so much that on some nights, it's almost like he's the stranger I get to flirt with.
9:30 p.m. We get dinner at a little French restaurant. We never talk about our marriage. We talk about the kids, some travel plans, a little bit about work. It's a proper catch-up, and I enjoy it.
11 p.m. Saying we came home and made love would be fun, but no. He wants to watch a TV show; I'm stuffed and a little tipsy and just want bed. Good night!
DAY SIX
7 a.m. No nanny on the weekend. My husband helps out a lot. I do things like cook and maybe hot yoga. Today will be no different.
10:30 a.m. I get a 90-minute massage while my husband takes the kids to swim class and things like that. It's a nice break.
4:40 p.m. We're all at dinner at Shake Shack. Roberto has texted a few times since our dinner but I've lost interest.
7:30 p.m. Everyone is in our bed — for tickles, a Disney movie, cuddling. It's quite nice.
DAY SEVEN
10 a.m. My husband tells me he's going out East, to the Hamptons for the day. I don't like this. His friend who lives out there year round is not a good guy. He parties a lot. He is divorced and a womanizer. My husband turns into an asshole around him. He's just toxic. And yet, my husband is going out East. He offers to take the kids so I can have a day to myself — but for the life of me, I can't figure out how that's a good idea for the kids. I wonder if he offered to bring the kids just because he knew I'd say no.
11 a.m. My husband takes off. We don't fight anymore. I just turn off completely. Like, "Go. Have fun. Bye."
Noon I invite my friends over with their kids. And I order in from Parm. The afternoon is fun for the kids, and it's nice to see some of these ladies. We are able to laugh at our husbands' antics. I don't cover up for how unhappy I am but I also try to keep it on the lighter side. I guess, in the end, I don't really have anyone to talk to about him or us.
9 p.m. I go to bed early. I'm not depressed. I'm just indifferent. And I need a lover. I'm going to try harder to find one …
Want to submit a sex diary? Email sexdiaries@nymag.com and tell us a little about yourself.