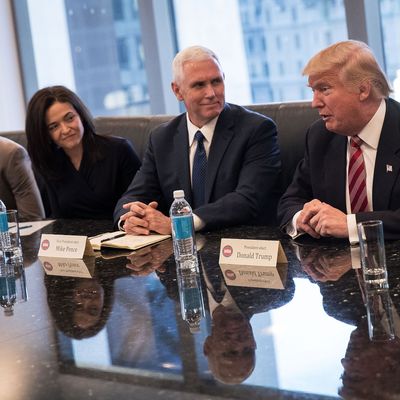 Sheryl Sandberg and other tech executives meet with President Trump in New York.
Photo: Drew Angerer/Getty Images
Sheryl Sandberg publicly backed Hillary Clinton in November's presidential election, but since Donald Trump has taken office, with the exception of the occasional Facebook post, she hasn't said much about politics. Nor has her Lean In organization, which she founded after the 2013 publication of her book, Lean In: Women, Work, and the Will to Lead. In fact, according to Bloomberg, Lean In — with its mission to "empower women to achieve their ambitions" — is doubling down on its commitment to remain nonpartisan in the face of an administration that many see as hostile to women.
For example, for Lean In's annual public-awareness campaign, women in Lean In circles asked businesses to offer a 20 percent discount for Equal Pay Day. According to Bloomberg, they were coached to put businesses at ease when it came to questions of political partisanship:
"This campaign is non-partisan, and LeanIn.Org is a non-partisan organization," members were to say, according to materials reviewed by Bloomberg. The literature warned, "No materials or other elements of the local campaign should be affiliated with a specific political party. You should not propose or promote a specific proposal or piece of legislation as part of your local campaign."
Rachel Thomas, Lean In's president, told Bloomberg that "as individuals, we all have pretty strong belief systems," but "as an organization, we are nonpartisan and committed to that." Bloomberg added that Thomas believes "gender equality and women's leadership transcends politics."
Ideologically, maybe. But practically, women's equality and politics are pretty closely linked. In fact, Lean In's philosophy relies on policies like paid leave, affordable child care, and wage equality being implemented, so that women who employ Sandberg's tactics at work aren't penalized. And because these policies traditionally skew left, Lean In's fight to remain impartial seems tricky at best.
In other words, Lean In seems to be going the route of the Ivanka feminist rather than addressing the very real issues women are dealing with in the Trump era. "The dire threat that women face is not the possibility that women won't make it into the C-suite," Terry O'Neill, president of the National Organization for Women told the magazine. "It's the possibility that we will die from an unsafe abortion."