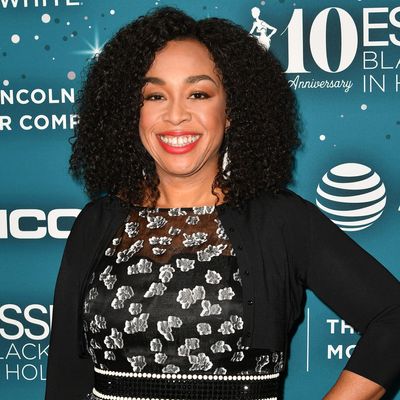 Shonda Rhimes.
Photo: 2017 Getty Images
Shonda Rhimes is the mastermind behind (fictional) strong women like Olivia Pope and Annalise Keating, so it's only fitting that she's decided to stand up for women across the country and join the national board of Planned Parenthood.
In an interview with ELLE.com, Rhimes and Planned Parenthood president Cecile Richards spoke about the famed showrunner's new role with the health-care provider. Rhimes had already been involved with Planned Parenthood's Los Angeles board when Richards reached out to ask her to get involved at a national level. "When someone you really admire … calls on you to serve, you say yes," Rhimes told ELLE.com. "The fact is that women's health is under fire right now. And so to me, it feels like it's important to help fight back."
Richards explained the Scandal, Grey's Anatomy, and How to Get Away With Murder creator has demonstrated, through her work, a "commitment to lift up the stories of people who don't always get to be heard, whether it's in the way she talks about LGBT issues or women's reproductive health care or [the way she] centers people of color or children." She added that Rhimes fits in well with Planned Parenthood's goal of making sure the voices of women across the country are heard in the current political climate.
Rhimes also shared her thoughts on the fact that while Planned Parenthood serves everyone, it's usually only thought of as a "women's issue."
"I'd put it this way: There are a lot of men who run things. And so for them, if it's not about them, it's considered an 'other.' I think the point of our country, our planet, the reason we're all here, one of the best things that we can do is be concerned about something even when it doesn't concern us. That's the whole point. The fact that I've never had to use a Planned Parenthood, the fact that I've never been in need of medical services I couldn't afford or didn't have access to, doesn't mean I shouldn't be concerned about the fact that other women don't have that access … When you help make people healthier, it makes the nation healthier, it makes the world healthier, it makes the economy healthier."
The women explained that Rhimes hasn't defined what exactly she'd like to do in her new role with Planned Parenthood as of yet, though the showrunner said she'd be happy to help in any way she can, whether that's conveying messages or "rolling up my sleeves and getting to work."