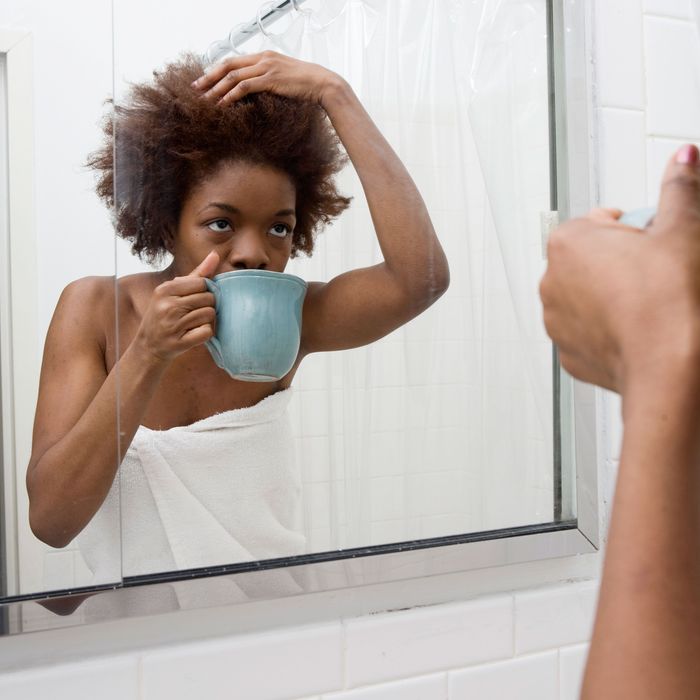 Photo: Erin Patrice O'Brien/Getty Images
On Monday, cosmetics company SheaMoisture landed in hot water on Twitter after releasing a promotional video, on Facebook, that featured mostly white women — historically, the brand's most ardent supporters have been black women. They quickly retracted the video, but suspicion about SheaMoisture's future direction remains. Here's a guide to the controversy, including SheaMoisture CEO Richelieu Dennis's defense of his company.
First of all, what is SheaMoisture?
SheaMoisture is a drugstore beauty company that was founded in 1991 or 1992 (the website provides two different dates) by Richelieu Dennis, along with his mother, Mary Dennis, and friend Nyema Tubman. The brand drew inspiration from the younger Dennis's grandmother, who sold shea butter and a variety of homemade skin and hair remedies in Sierra Leone. SheaMoisture is one of three Sundial brands — the umbrella company also founded by the trio. Sundial is considered to be the largest black-owned beauty company in the United States, with an estimated value of $700 million, as of 2015. It's worth mentioning that Bain Capital invested a minority stake in the company two years ago.
Everyone is mad at them. What did they do?
On Monday, SheaMoisture released a one-minute video that featured three white women and one black woman. The women in the video discussed how they previously hated their hair, and how SheaMoisture's lineup radically changed that sentiment. The video concludes with the text: "Embrace Hair in Every Form," and with the women proudly declaring: "Everybody gets love!" A tweet showcasing the ad, along with the message: "SheaMoisture is CANCELLED" has been retweeted over 10,000 times.
Why is that bad?
SheaMoisture's business was built on almost exclusive support from black consumers. Its marketing strategy, which championed its natural, homegrown, African heritage, specifically targeted the African-American community. More important, the brand prominently featured black women of all shades and hair textures in its ads and marketing materials. Black women have been underrepresented in the beauty realm for decades, so the fact that the brand showcased a range of black women mattered. The general feeling is that SheaMoisture's apparent new approach to a wider range of consumers suggests ambivalence toward its longtime supporters. In other words, people perceive SheaMoisture as saying their black consumer base is not good enough.
But isn't more inclusivity better?
Of course it is. However, SheaMoisture turned inclusivity into a zero-sum game by swapping in white models for black models. There's no need to remove nearly all of the black faces from its marketing materials to make room for white ones.
Maybe black people are just being sensitive.
Are we? Perhaps it's because beauty brands have always underserved black women, and so companies like SheaMoisture that explicitly catered to them have been particularly prized.
What does the CEO have to say about this?
In an interview, SheaMoisture CEO Richelieu Dennis defended the company's history and downplayed the significance of the ad, while acknowledging it was a mistake. "The fact that our core community did not see themselves represented in that video is an error on our part," he told me. But "that is in no way an indication of us alienating or abandoning our core community as we grow … People are saying 'SheaMoisture is now abandoning us for a different audience,' but that is not true. It was simply an error, but that error was a big one."
Some people on Twitter worried that the ad signals a change in SheaMoisture's product, but Dennis denied that: "There's this misconception that we're changing formulas. We're not. We have never done that. We will continue to focus on women with curly hair. What we have done is grown. We make over 170 hair products. Over 75, 80 percent of them are made for women with between four and three curly-hair types." He also pushed back against a recent story in which a model claimed that representatives of SheaMoisture at a hair show in Florida said they were not a "black" company: "We spoke to our employees that were at that event, and none of them recall having that kind of conversation. For all we know, the people that she spoke to may not have even been our employee."
Dennis says that SheaMoisture is trying to expand its market without leaving black women — who he sees as core to the brand — behind. He denied that Bain's investment has anything to do with this shift, citing consolidation in the beauty market and more competition for black consumers as the main factor: "We've got multinational companies that are acquiring brands, all targeted at this consumer. What ends up happening is that smaller companies like ours are unable to compete. We don't have the salesforce, we don't have the distribution system, we don't have the infrastructure, we don't have the marketing dollars … What ends up happening is that these brands then become acquired, or maybe they fall out of a state of grace. If you look at the data, that's the history of this category. We don't have to be that. If that's what we wanted to be, we could have sold this brand. We love this consumer. We love what we do."
So, should I throw out my Coconut & Hibiscus Curl Enhancing Smoothie?
I'm not. SheaMoisture knows they really messed up and are quickly course-correcting. But if it happens again? Well, that's a different discussion entirely.
This interview has been edited and condensed for clarity.