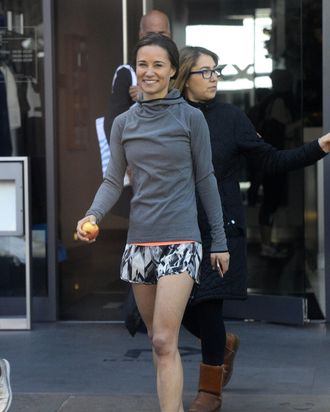 Pippa Middleton leaving her London gym.
Photo: TheImageDirect.com
Pippa Middleton's upcoming May 20 wedding to British man James Matthews may be under threat by normal people, but the royal sister-in-law isn't letting that distract her from getting ready for her big day. E! News reports Middleton has been prepping by working out at an "exclusive" London gym, in addition to following the Sirtfood Diet, which one expert warns is "extremely restrictive"and can potentially cause long-term health problems.
On Wednesday, E! News published pictures of Middleton leaving private fitness center KX gym in Chelsea after an hour-and-fifteen-minute Pilates class, accompanied by a report that detailed Middleton's use of the Sirtfood Diet, which was created by health consultants Aidan Goggins and Glen Matten. The diet is all about eating foods that are high in polyphenols — micronutrients found in plant foods — which supposedly help activate a person's sirtuin (or "skinny") genes. In other words, the diet claims that by sticking with 20 so-called Sirtfoods — including strawberries, kale, arugula, red wine, and walnuts — you'll burn more fat and your metabolism will speed up.
While that may sound great in theory (especially the part about red wine), registered dietitian Brigitte Zeitlin told the Cut that the diet is actually quite dangerous. That's because, as Zeitlin explained, the diet is broken down into two phases, as detailed in the creators' book, The SirtFood Diet. During a person's first week on the diet, they're only supposed to consume 1,000 calories a day for three days — through three Sirtfood juices and one meal a day (recipes for such meals and juices are included in the book and online). Then, for the remainder of the week, the amount of calories they consume is upped to 1,500 a day, through two juices and two meals.
The second phase of the diet is a "maintenance phase" that lasts for two weeks, involving three Sirtfood meals and one juice each day. After that, a person can repeat the process all over again (starting from week one), or merely stick with the maintenance phase for however long they want. Zeitlin confirmed that yes, a person would likely lose weight on this diet due to its overly restrictive nature, but they'd also be starving themselves in the process — and would merely gain the weight back once they started eating again.
"It's unhealthy and unsafe to eat below 1,200 calories a day," Zeitlin told the Cut. "In addition to not giving yourself the proper energy and nutrients you need each day you're on this fad diet, eventually you're going to go off of it. You're going to gain all of the weight you lost back, and more often than not, you're going to gain even more weight back."
Brides who are hoping to get in shape for their big day — or even those of us hoping to shed the doughnut weight from our winter hibernation — should pursue a healthier option rather than follow Middleton's lead, according to the registered dietitian. The best thing a person could do for their health, she said, is to ensure that they're getting a variety of whole fruits and vegetables, as well as lean protein, each day. This is far healthier than yo-yo dieting, like you would on the Sirtfood diet, she explained, since going up and down in weight has been shown to be bad for your heart, to screw up your metabolism, to cause stress on your body, and to lead to inflammation.
"Extreme diets like this don't work," Zeitlin said. "Most brides usually burn out on them, and they get incredibly cranky because they're starving themselves. At a time when you're already incredibly stressed out, the last thing you need to do is add in the stressful factor of not eating properly."
Besides, as Celebitchy points out, the photographs E! News published of Middleton leaving KX gym — which, of course, just so happens to have a restaurant that features a Sirtfood Diet–friendly menu — seem to be pretty staged, suggesting that perhaps, like most other things celebrity-related, Middleton's wedding prep might just be spon-con.