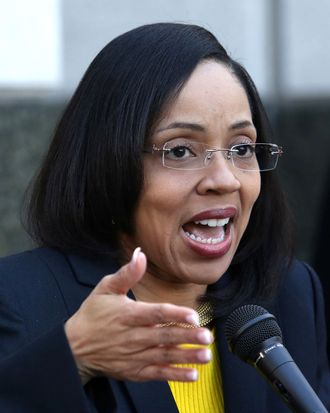 State Attorney Aramis Ayala announced her office will no longer pursue the death penalty.
Photo: Joe Burbank/TNS via Getty Images
Florida's first and only black state attorney, Aramis Ayala, was sent a noose in the mail, the Orlando Sentinel reports. The noose was included in one of two threatening letters she received in late March, according to an incident report filed with the Sheriff's Office. The first letter had a racist message written on the envelope, and the second — which appeared to come from the same person — contained more threats and a noose "made out of green twine."
Ayala told police she "believes the hangman's noose was meant as a threat to her as a public official," and sees the letters as a hate crime; Florida police are reportedly working with the U.S. Postal Service to find out who sent them.
Last month, Ayala sparked controversy in Florida when she announced she wouldn't seek the death penalty in any case — including for a defendant who's accused of killing police officers. Florida governor Rick Scott responded by removing her from 23 capital cases, and Ayala is now suing him, claiming he had no authority to do so.
During a March press conference, Ayala explained her decision by pointing out that "death penalty traps many victims in a decades-long cycle of uncertainty, court hearings, appeals, and waiting." She went on, "I understand that this is a controversial issue, but what's not controversial is the evidence that led me to my decision."