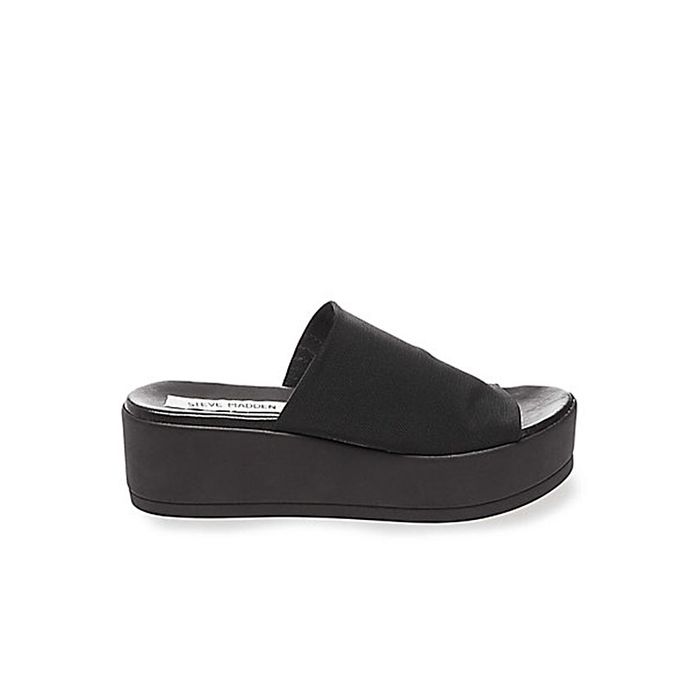 If you were (or simply just aspired) to be one of the cool girls in the '90s, there was one brand that was pretty high on that list: Steve Madden. And nothing mattered more than owning a pair of these black slides once the weather warmed up. Sure, they were heavy and slapped against the bottoms of your feet as you walked. You might have tripped a bit since you couldn't really walk in anything higher than your sneakers and these were the equivalent of training heels. But what else would you wear with those flared jeans and baby tees while listening to Gwen Stefani bemoan her doomed love life?
Because Steve Madden knows how to tap into that nostalgia and all trends (flared jeans, Gwen's romance woes) are circular, they're baaaack. This isn't the first time a brand tried to revive a cool-girl '90s-era shoe. Back in 2013 Jeffrey Campbell tried their hand at selling a stacked-heel loafer, another signature Steve Madden look circa '96. That look didn't really seem to take hold with shoppers, but who knows, maybe the time is right for this to make a comeback? If that sounds appealing, you can preorder the shoe now for a summer delivery.
If you buy something through our links, New York may earn an affiliate commission.