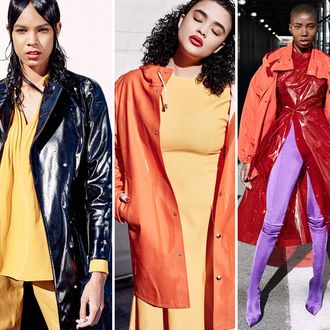 A coat that can take you from point A to B in this unpredictable early-spring weather feels like an essential expenditure. But is it possible to find a miracle coat that protects you from the rain but still looks good? These eight styles prove that yes, good-looking, functional raincoats do exist.
Here, photographer Jessie English shot four fresh faces — Giannina Oteto, Diana Veras, Lauren Taylor, and Emely Montero — in the season's best raincoats and layers, from Miu Miu to Balenciaga.
The Double Raincoat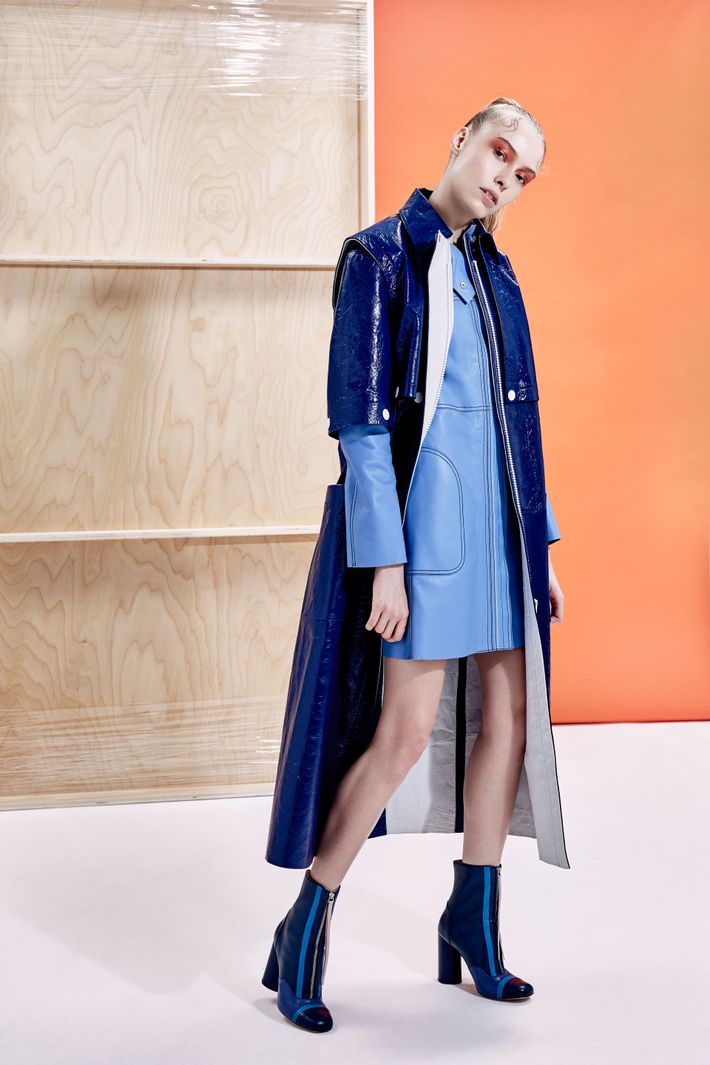 This patent-leather Joseph coat is an easy stunner because of the sapphire hue — but what makes it a fun layering piece is that you can detach the lower sleeve (seen here) to make it elbow-length in warmer temperatures. The Longchamp coat underneath doubles as a dress that can be worn on its own or as a top layer.
Lauren Taylor in Joseph Coat, Price Upon Request at Joseph, Longchamp Coat, $1,790 at Longchamp, Tory Burch Boots, $300 at Tory Burch.
The Runway Raincoat Made Practical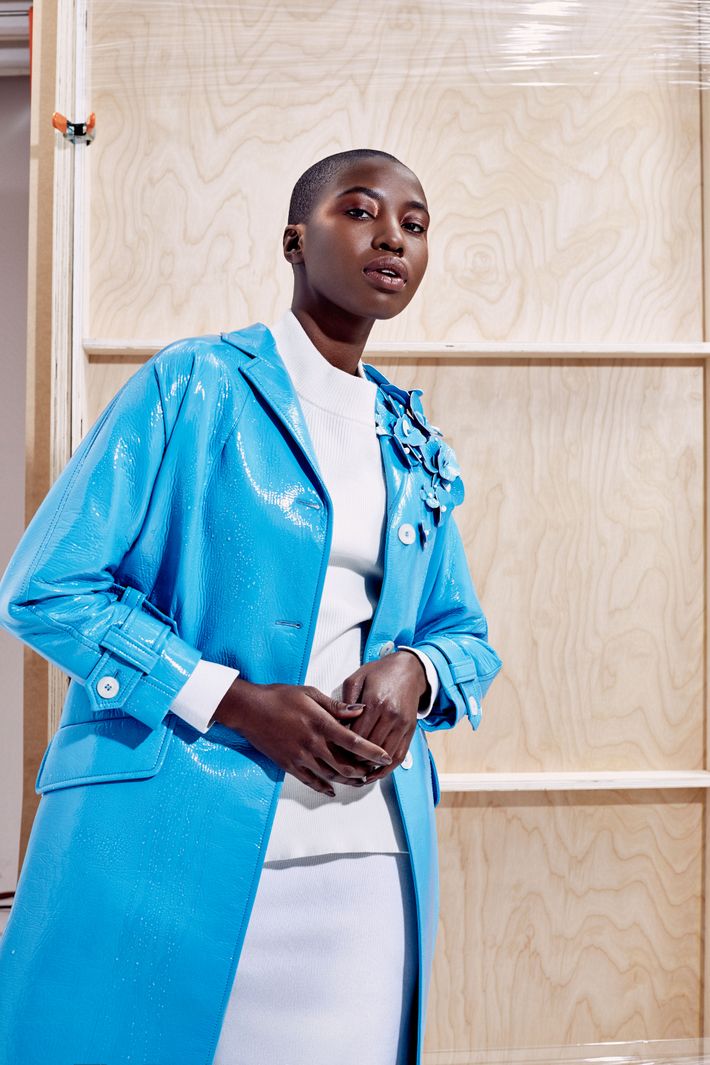 Most coats we see on the runway are extravagant to the point of being unwearable (unless you're Marjorie Harvey). But this Miu Miu trench is the exception: The floral paillettes add texture without looking cartoonish, and the white buttons make the color stand out even more. You'll look cool, but not like you're trying too hard.
Giannina Oteto in Miu Miu Coat, Price Upon Request at Miu Miu, DKNY Sweater, $248 at DKNY, DKNY Skirt, $198 at DKNY.
The Sunny-Day Raincoat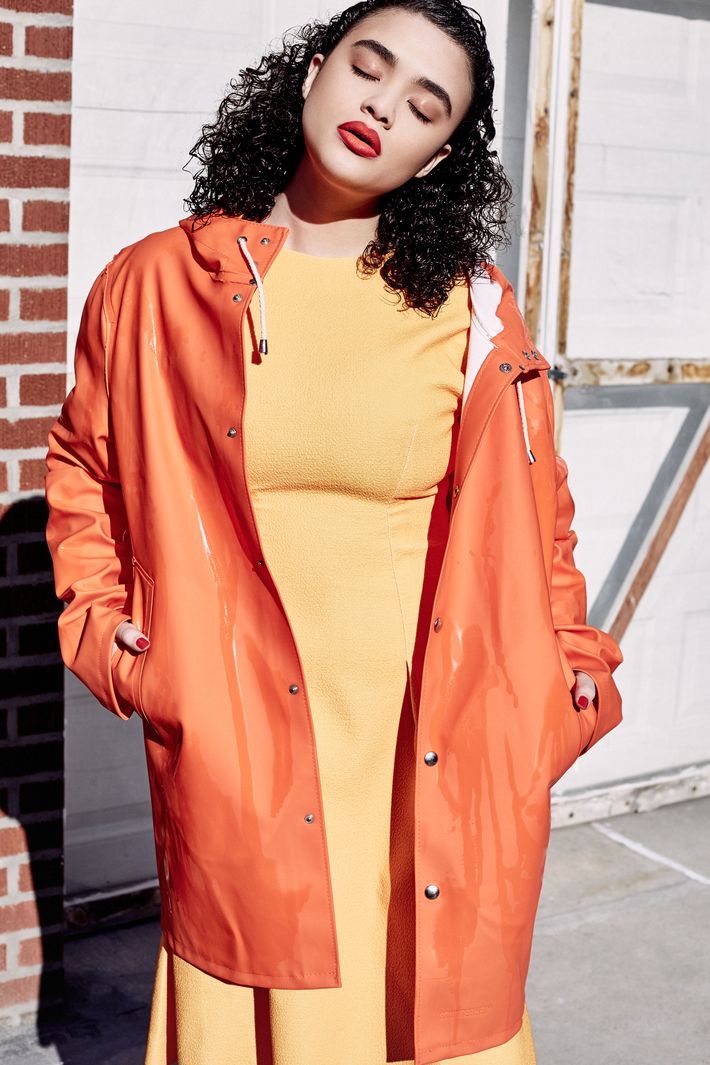 We've already raved about Stutterheim coats, but this version in a kicky orange feels appropriate even on sunny days. Whether you want it to be the focal point of a casual outfit, or would rather dress it up with poppy hues like this marigold Rejina Pyo dress, it's guaranteed to look bright and fresh.
Diana Veras in Stutterheim Coat, $225 at END, Rejina Pyo Dress, $941 at Shopbop.
The Transparent Raincoat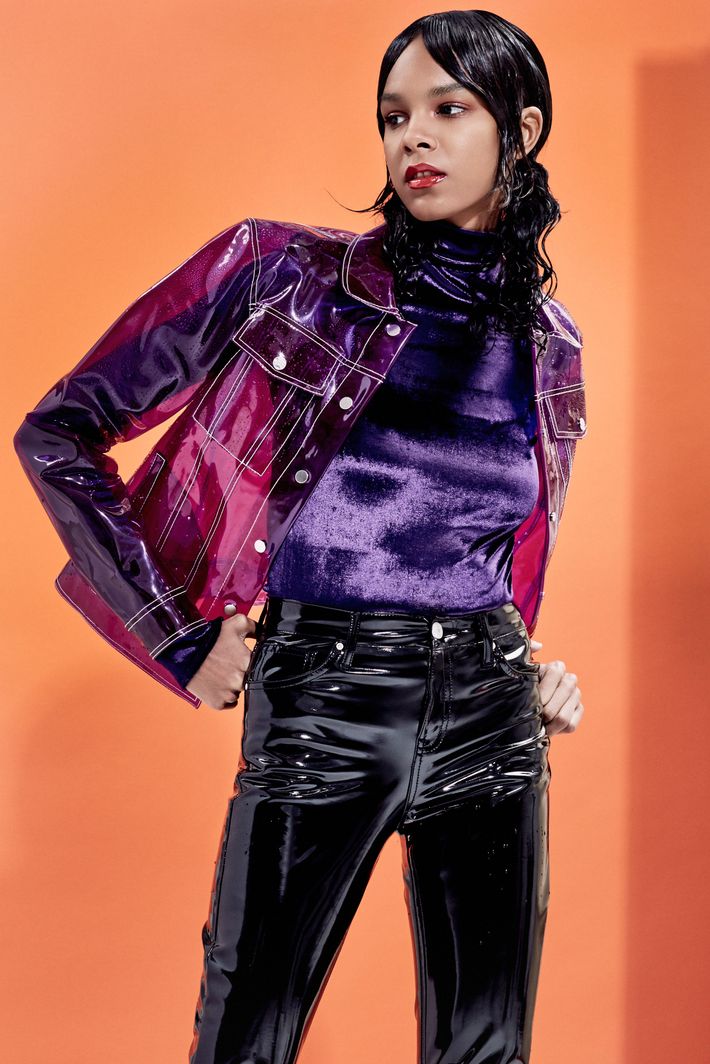 Don't be afraid to try a transparent raincoat — it's actually a fun styling piece when layered with different textures, like this purple velvet bodysuit and these shiny black vinyl pants.
Emely Montero in Carven Coat, $731 at Carven, Nina Ricci Bodysuit, $690 at Saks Fifth Avenue, Topshop Pants, $100 at Topshop.
The "Emerald Is the New Black" Raincoat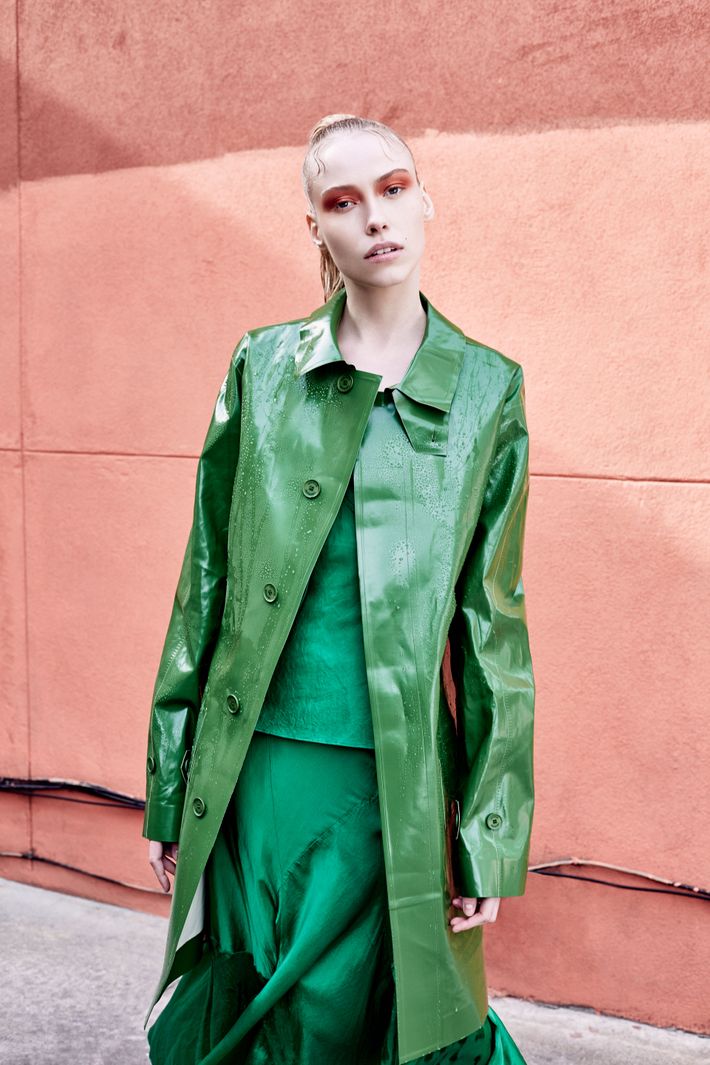 When you don't want to put much thought into getting dressed, monochromatic is the way to go (and feels fresh for spring in this mix of emerald shades).
Lauren Taylor in Lacoste Coat, Price Upon Request at Lacoste, Creatures of Comfort Top, $295 at Creatures of Comfort, Creatures of Comfort Skirt, $450 at Creatures of Comfort.
The Layering Raincoat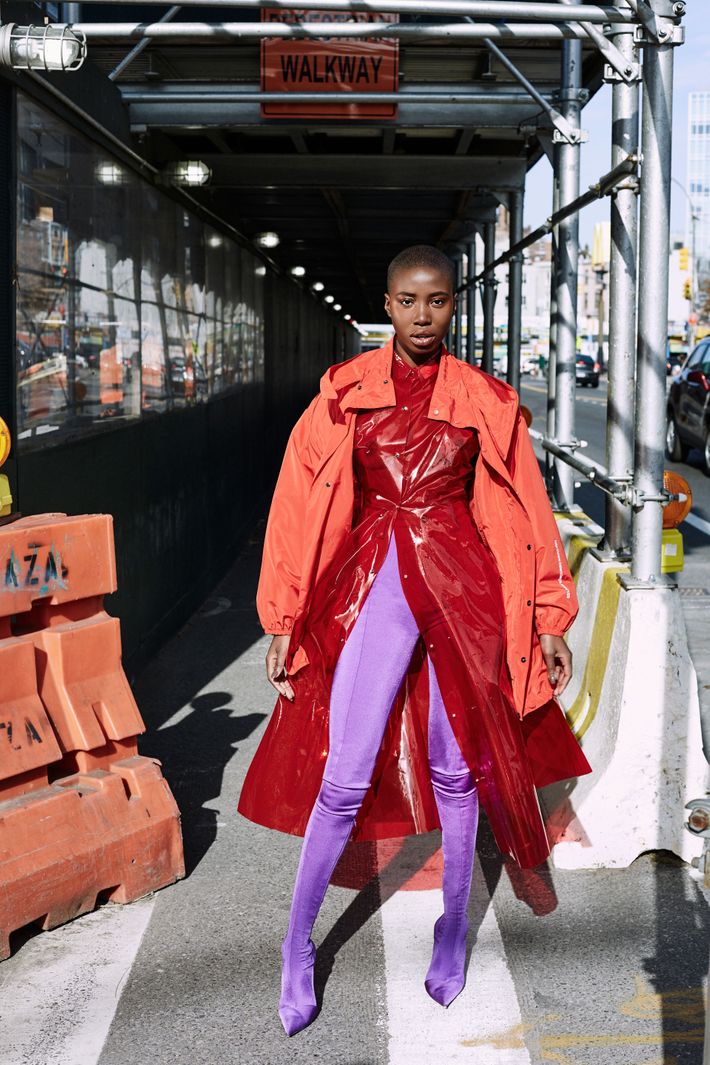 For a daring look, try pairing a clear trench, like this one from Lacoste, with a windbreaker on top.
Giannina Oteto in Balenciaga Windbreaker, $1,395 at Balenciaga, Lacoste Dress, Price Upon Request at Lacoste, Balenciaga Pantashoes, $2,850 at Balenciaga.
The Minimalist Yet Versatile Raincoat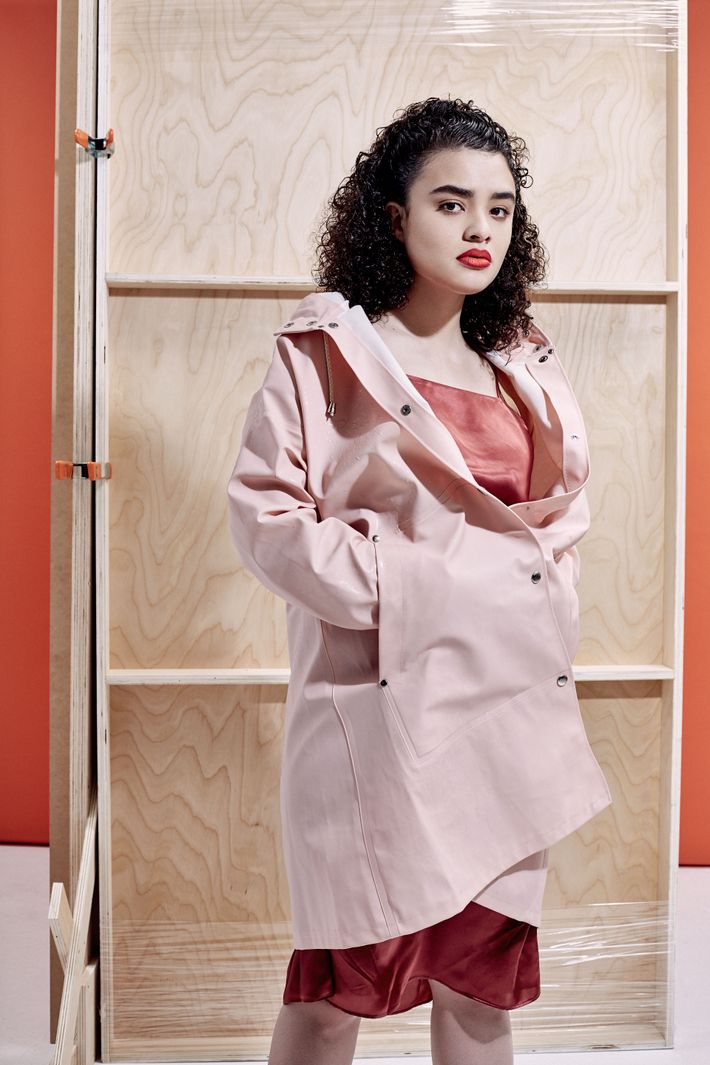 Get extra milage out of your coat during warmer months by wearing it over a '90s-style slip dress. We've never seen a raincoat look sexier.
Diana Veras in Stutterheim Coat, $295 at Stutterheim, Iris and Ink Dress, $190 at The Outnet.
The Black But Not Boring Raincoat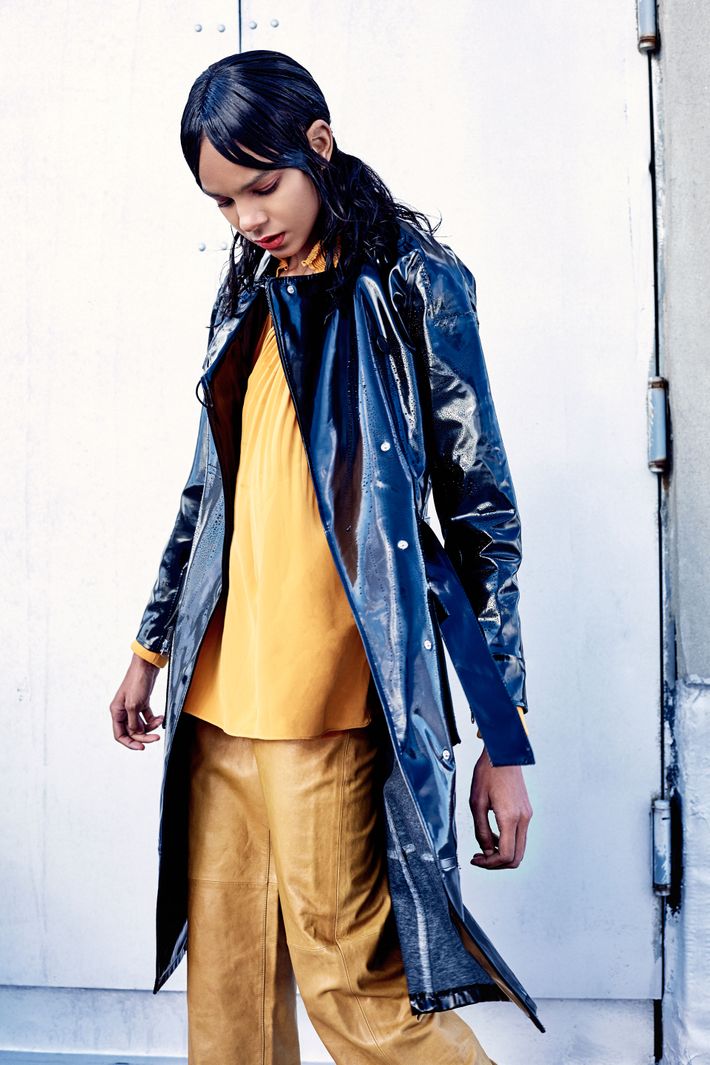 Make a standard black raincoat feel fresh for spring by pairing it with an uplifting color like marigold. Styled here with a silk top and suede pants, the combination of textures looks polished, not chaotic.
Emely Montero in ASOS Coat, $76 at ASOS, Tibi Top, $795 at Tibi, Tibi Pants, $1,100 at Tibi.
Photos by Jessie English, Styling by Lindsay Peoples, Makeup by Samantha Lau, Hair by Jeanie Syfu using Kerastase at Atelier Management.
If you buy something through our links, New York may earn an affiliate commission.