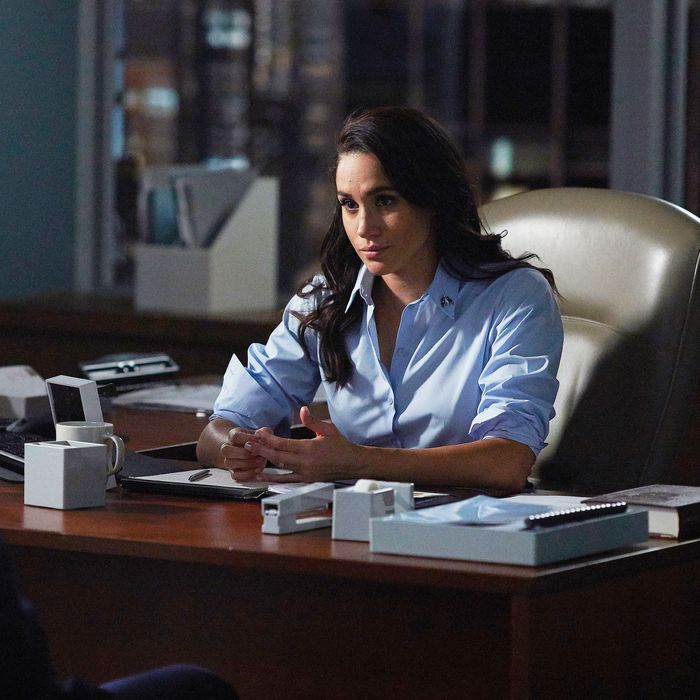 Meghan Markle on Suits.
Photo: USA Network/NBCU Photo Bank via Getty Images
Suits star Meghan Markle bid farewell to her lifestyle site, the Tig, yesterday with a post on Instagram and on the homepage of the site. Markle wrote original content for the site about travel, food, and fashion for the past three years, and a source told People that running the Tig was itself a full-time gig on top of her other work. The same source told People that the decision had to do with Markle wanting to focus on Suits and her humanitarian work and nothing to do with her burgeoning relationship with Prince Harry, declaring that "any other speculation is false." (The two recently made a pit stop in Jamaica for Harry's BFF's wedding; they also snuggled up under the Northern Lights around New Year's Eve.)
As for her philanthropic and more politically minded work, Markle recently wrote an essay about the stigma of menstruation in India for Time after her visit with humanitarian organization World Vision. She also gave an illuminating interview with Allure about the discrimination she's faced as a biracial woman. "To this day, my pet peeve is when my skin tone is changed and my freckles are airbrushed out of a photo shoot," she said.