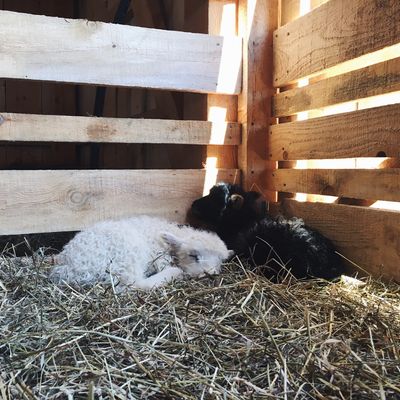 Baby sheep are a bonus of the company's sustainable flower farm.
Weekend With is an ongoing Instagram series that features people we like photographing places we'd like to be. Follow @thecut on Instagram to join in, and tag your photos with #weekendwith when you travel somewhere new.
Although Easter weekend is typically a flower-heavy day on Instagram, the photos Brooklyn-based flower shop Saipua shared with us were different. The floral arrangements from Saipua are not only designed in incredible ways that are interesting to stare at and zoom in on, but the flowers themselves are from a sustainable farm in Albany.
"As a small family business we often talk about how our most valuable assets are our people. Beyond our core team listed here, there exists a dynamic and powerful community of people who support us and inspire us in immeasurable ways," the company says.
And Saipua isn't just flowers! With a flock of Icelandic sheep at the World's End farm in Albany, they also have wool yarn (and hopefully sheeps' milk ricotta one day).
"We want to make a farm that supplies unusually beautiful flowers to our business, Saipua, and also to our friends who have flower businesses. We would like this farm to eventually serve as a center for the study of the botanic arts. A place people can visit to learn, study, work, and practice the art of floral arranging. The world needs more people to pay attention to nature; we imagine that somehow flowers could be a sort of mascot for that shift."