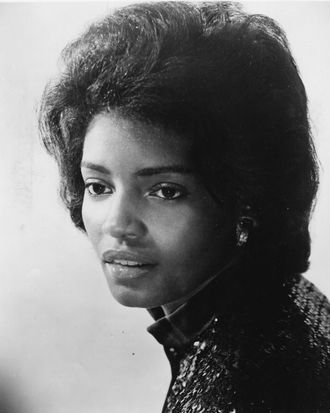 Sylvia Moy, 1963.
Photo: Gilles Petard/Redferns
Whether their histories have been recorded or not, women have long been instrumental behind the scenes in making great music. On Saturday, the world lost one of them: Sylvia Moy, one of Motown's foremost female songwriting pioneers.
Moy's career took off in 1963 when she was spotted performing at Detroit's Caucus Club by Marvin Gaye and Mickey Stevenson. Moy told the Detroit Free Press last year that Motown came to her with a contract, but ultimately encouraged her to pursue songwriting over singing. "I said okay," she explained, "because I was kind of shy anyway. And so that's what I started doing. I got into it, and the hits started coming."
Her first success came with none other than Stevie Wonder, who Moy says Motown had all but given up on when his voice was changing during puberty. "But I just believed in him," she told the Free Press. "I knew it was possible [the label] might let him go. I was begging: 'Please give him to me.' That's when I was finally told, 'Well, if you can come up with a hit on him, we'll keep him.'" Moy then co-wrote Wonder's No. 1 hit single "Uptight (Everything's Alright)," with Hank Cosby, and because she couldn't transcribe the lyrics into Braille, she said she sang one line ahead of Wonder into his headphones. Moy went on to co-write "It Takes Two," "Never Had a Dream Come True," and "My Cherie Amour" among other well-known Motown staples.
After learning the news that Moy had died, Wonder sent a statement to Rolling Stone, saying, "How do you stop loving the ones you loved for a lifetime — you don't! Sylvia Moy has made it possible to enrich my world of songs with some of the greatest lyrics. But, not only that, she, through her participation and our co-writing those songs, helped me become a far better writer of lyrics."
She was inducted into the Songwriters Hall of Fame in 2006 and spent the latter part of her life writing music for film and TV and working with young people in Detroit. Moy died on Saturday of apparent complications from pneumonia, according to a report from the Detroit Free Press.