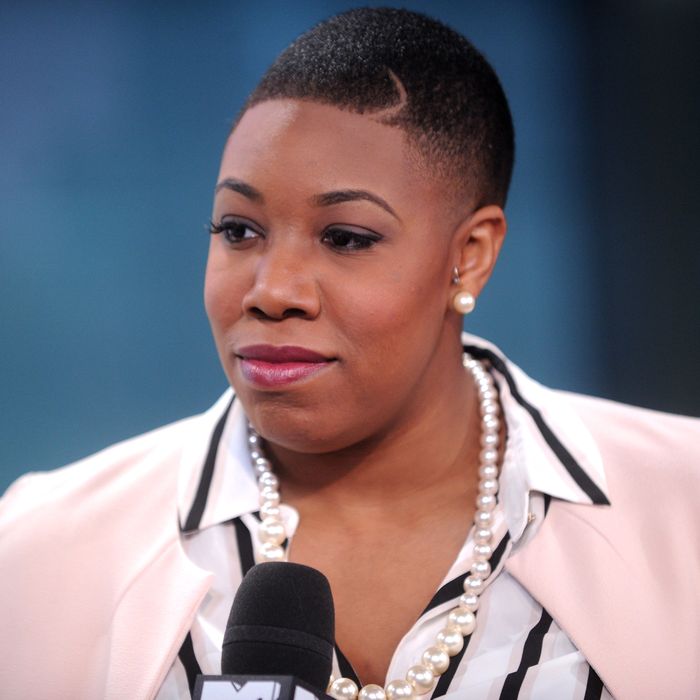 Symone Sanders was not having Jeffrey Lord's comparison.
Photo: Brad Barket/Getty Images for MTV News
As the country becomes more polarized, so too do political debates on CNN. Last month commentator Angela Rye — she of eye-rolling fame — called conservative radio host Joe Walsh a "bigot" for his comments on Barack Obama, and on Thursday morning, CNN commentator Symone Sanders had a similar reaction when Jeffrey Lord, a veteran of the Reagan administration, compared Donald Trump to Dr. Martin Luther King Jr.
In a segment discussing the president's plans for Obamacare, Lord called Trump "the Martin Luther King of health care." Sanders interjected with an "Oh Jeffrey," but Lord went on, "When I was a kid, President Kennedy did not want to introduce the Civil Rights bill because he said it wasn't popular, he didn't have the votes for it. Dr. King kept putting people in the streets in harm's way to put the pressure on."
That's when Sanders stepped in to quash his metaphor:
Okay Jeffrey. You do understand that Dr. King was marching for Civil Rights because people that looked like me were being beaten? Dogs were being sicced on them? Basic human rights were being withheld from these people merely because of the color of their skin? So let's not equate Dr. Martin Luther King Jr. — a humanitarian, a Nobel Peace Prize winner — to the vagina-grabbing President Donald Trump.
It's worth watching the entire exchange, which Sanders posted to her Twitter page "without comment." Luckily, the clip is all the comment she needs.