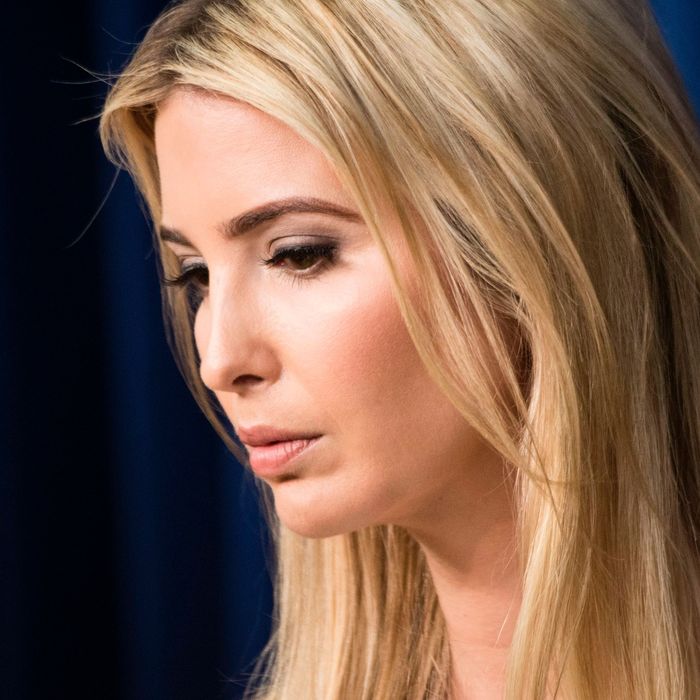 Ivanka was reportedly "heartbroken" by the Syrian gas attack.
Photo: BRENDAN SMIALOWSKI/AFP/Getty Images
Ivanka Trump has long professed to hold sway over things like her dad's plan for women's advancement in the workforce and his paid-leave policy, but now it looks like she's weighing in on foreign-policy decisions, too. In an interview with the Daily Telegraph, Eric Trump said Ivanka was "heartbroken and outraged" over photos of children killed in a Syrian gas attack ostensibly carried out by Bashar al-Assad's regime — and that her feelings swayed his father to order a missile strike against Syria in response.
"Ivanka is a mother of three kids and she has influence," he said from the Trump Turnberry golf resort in Scotland. "I'm sure she said, 'Listen, this is horrible stuff.' My father will act in times like that."
Eric Trump added that his father, who some have said ordered the attack based on "emotions," didn't act on impulse. "[He's] a great thinker, practical, not impulsive," he said. "Believe me, he thinks things through."
Besides being her dad's favorite daughter, Ivanka's new West Wing office and her official title of "special assistant" giver her unparalleled access to the president. And she's admitted to using that access to sway him on matters of policy — in an interview with CBS last week, she said she tells her father "hard truths" behind the scenes.
"I think there are multiple ways to have your voice heard," she said. "In some cases, it's through protest … Other times, it is quietly and directly and candidly." She added, "I think most of the impact I have, over time most people will not actually know about." Unless, of course, her brother blabs to the press on a golfing trip.