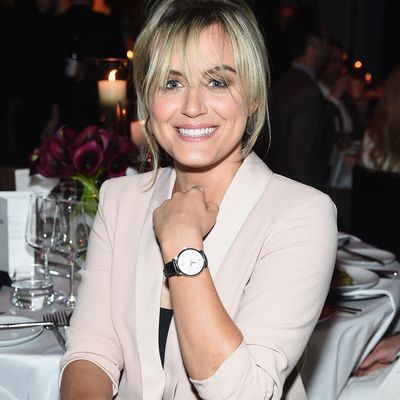 Taylor Schilling believes that wellness is an inside job.
Photo: Jamie McCarthy/Getty Images for IWC
Taylor Schilling is best known for her work on Orange is the New Black. The same thoughtfulness she applies to playing inmate Piper Chapman also applies to her approach to life, wellness, and being environmentally conscious. She's partnered with beauty brand Burt's Bees to bring awareness to their Bring Back the Bees campaign, which works to help the declining bee population by planting more wildflowers. "As I became more educated on the subject, I was shocked to find out how many parts of life and our environment are sustained by bees," she told me. (Each sale of a limited-edition Burt's Bees lip balm plants 5,000 wildflowers.) Here, she talks to the Cut about the poetry book she's been reading for inspiration, honest expression, and why not curating "a self" is key to her wellness practice.
How I start my mornings: I try to start them pretty slowly. I do a little bit of reading and meditating, and have tea or coffee. Then I'm up and about. I like to ease into it.
I have a few books and items I collected over the years that are important to me. A lot of them have a philosophical or spiritual bent to them. Right now, The Alchemist is on my nightstand. I've read that a gazillion times. I like to read through it in the morning. There's a lot of literature I read from programs I attend that are important to me. I sometimes read some poetry in the morning. I really like Mary Oliver's new book (Upstream) — stuff like that.
On eating: For breakfast, it changes. I usually have two eggs and some oatmeal and berries. I have that every single morning. It's different when I'm out. I went through the phase when I ate a muffin in the morning. It was pretty basic. I would just go to Starbucks and pick out a muffin — blueberry or bran. I don't know what was going on but it really worked for a time. It's over now. It was fun while it lasted.
It's the same thing with drinks in the morning. In my best moments, I am not drinking a lot of coffee. Recently, I have been. I really liked it when I wasn't. Just as there are muffin phases of my life, and sometimes it's green tea or coffee. Right now, it's all Americanos.
What wellness means to me: Wellness is definitely an inside job. For me, nothing exists on the wellness spectrum unless my mind is settled and my personal life feels rich, spontaneous and also grounded. Then other things fall into place. Without feeling my own presence, I don't feel very well. When all that is handled, then there can be other fun things going on.
I like to exercise and go out with my friends. I like to eat well. I like to see new things, be in new places. A lot of times wellness is a balance between being outside in the world and actively participating, but then having moments to retreat, be alone, and have more of a solitary existence. Finding a balance there is what makes me feel capable.
How has wellness changed for me: It's always evolving as I learn new things about myself and the world presents new challenges in my life. My experience expands as life just gets bigger. My ideas about how to take care of myself also have to expand accordingly.
I think I used to be a lot more rigid. Internally, I felt that I had to do things to hype up my external package and appearance. That became a bit of a prison. As I've learned that who I am, my experience with the world, my story, and my life, have nothing to do with what I look like, everything eased up a little bit. I care about taking care of myself. But I also care about expressing myself honestly. When I spent a lot of energy trying to manipulate my outside, there wasn't a lot of energy left over.
When I was younger, I took it for granted that's what it had to be. I had to follow it the way everyone else did it. Now I'm just more curious about the storytelling part.
How I sweat: I really like it. I like moving, exercising, and working out. It's a part of my routine. I do a lot of different stuff. I have a trainer in L.A. and New York who I really like. I also like to bike and take spin classes and do yoga.
Recently, I was doing this job in Atlanta, preparing for this part and couldn't really exercise for two months. I realized it was such an important part of my well-being. It's necessary to keep myself on track.
On makeup: I have to be honest with you. I don't spend that much time thinking about my makeup. I have the luxury not to. When I have big events, I have an amazing team who does the whole deal. It's such a part of my job that I revel in when I don't have to put anything on and can go to the gym, be sweaty, and hang out all day.
On wellness and beauty: Looking at wellness with the approach that it's not all about the outside has definitely impacted how I think about beauty. I'm much more comfortable in being a raw version of myself.
On wellness and nature: If we let that fall by the wayside, the effects are far-reaching. The more I became aware of that, the more I wanted to see what I could do to help.
My wellness struggle: Wellness is something I'm still exploring. I know what I value. I value storytelling. I value authenticity. Those are things I connect to as an audience member. Those things have everything to do with living honestly, and being vulnerable and raw. It has to do with not manipulating and curating a self to please someone else or to meet the status quo, and to be true to your authentic self.
My wellness advice: Bring honesty to the table. Being your true self requires a lot of guts and courage, that's what I look up to in fellow actors. Trying to maintain an image actually hinders the pursuit of that goal. If you're trying to fit into a certain mold and also trying to be this honest human, they're mutually exclusive, they x each other out. It's baffling. The two parts are so unrelated. Life is difficult and not a glossy magazine. I'm more curious about that end of the spectrum.