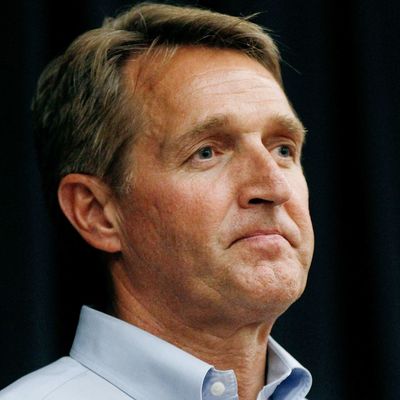 Senator Jeff Flake had a bumpy town hall on Thursday.
Photo: Ralph Freso/Getty Images
On Thursday, President Trump signed yet another piece of legislation that restricts women's health care: A law that lets states block Title X family-planning money from health-care providers that also perform abortions. The law was widely seen as a blow to Planned Parenthood, which, along with other providers, uses Title X money to give close to 4 million low-income Americans things like cancer screenings, birth control, and STI tests.
Before the bill made it to Trump's desk, it was passed in the Senate along party lines, which means Republican senator Jeff Flake of Arizona supported the bill. And during a town hall in Mesa, Arizona, Thursday night, 16-year-old Arizona resident Deja Foxx had some choice words for Flake about his vote.
"I just want to state some facts," Foxx began. "I'm a young woman; you're a middle-aged man. I'm a person of color, and you're white. I come from a background of poverty, and I didn't always have parents to guide me through life; you come from privilege."
She went on, "I'm wondering, as a Planned Parenthood patient and someone who relies on Title X, who you are clearly not, why is it your right to take away my right?"
When his constituents calmed down enough for Flake to reply, he said, "I'm glad to hear of my privileged childhood," and told Foxx that he was one of 11 children and paid for college on his own. Foxx replied, "Privilege comes in many forms." And Flake agreed: "I've had a lot of advantages that others haven't," he said. "What I want is to make sure that everyone can realize the American Dream." So Foxx asked, if Planned Parenthood helped her achieve her American Dream, why would Flake vote to defund it?
At a roundtable earlier that day, Foxx explained (with a script provided by Planned Parenthood) that she didn't have a permanent home, so when she needed birth control, she went to Planned Parenthood, Refinery29 reports. She added that her visit was completely covered by Title X funds, which Flake's vote potentially stripped from Planned Parenthood and other clinics like it.
Foxx added that she wants to go into politics, "because someone has got to stop these political attacks on our reproductive rights."