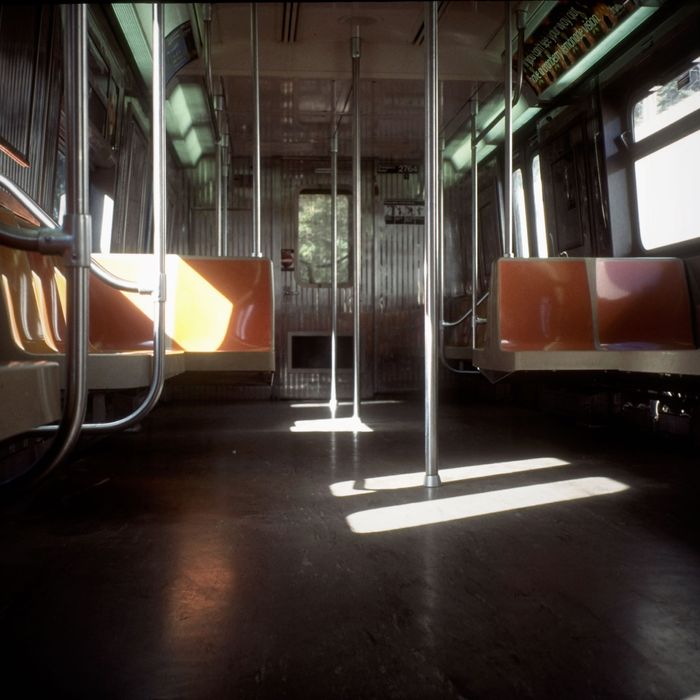 Get Sex Diaries delivered every week.
New York's Sex Diaries series asks anonymous city dwellers to record a week in their sex lives — with comic, tragic, often sexy, and always revealing results. This week, a 26-year-old assistant film producer who recently broke up with her boyfriend in front of a new guy: 26, straight, single, FiDi.
Day One
9 a.m. I wake up in my best friend's bed groggy and hungover, still fully dressed including makeup and jewelry. My mouth tastes disgusting.
10 a.m. I find my best friend's keys (he's still out cold) and walk up the block for some blue Gatorade. Blue Gatorade is the only color that cures hangovers, FYI.
I have a text from a new guy I'm seeing. He actually witnessed the phone call where my ex-boyfriend and I decided to end it, just a week ago. New Guy and I were outside smoking when it happened. Through my tears, he asked how he could make me feel better and I said, "Kiss me." We hung out last night, and he texted me half an hour ago saying he had fun and wanting to know if he can see me again tonight. I say maybe. Seeing him three nights in a row might be overkill.
10:30 a.m. My best friend's awake now and saying he wants Starbucks. I've been staying on his couch for the past week because I was essentially living with my ex-boyfriend and now … I'm couch-crashing wherever. The city is expensive — I work 14-hour days at a TV-production job during the week and write for a blog on the weekend. It doesn't make sense for me to sublet an apartment right now, not when I can couch-surf like this.
1 p.m. Some friends from college want to go out tonight. We all went to school in the city and definitely have our old college-bar stomping grounds, but tonight they've decided we should go to hipster bars (for the Snapchat geofilters). I agree to go even though I feel like death.
10 p.m. Out with my friends and drunk-texting New Guy. He's cute, a bartender. He asks if he can come meet me when he's off work.
1 a.m. He somehow finds me in this very dark, very loud techno bar. It's freezing outside, but we still walk the 15 blocks to his apartment. I'm super-chatty and affectionate from the tequila. We hold hands. Once we get inside his room, he goes down on me until I climax. I get on top for his turn but he can't get hard — apparently, he's also pretty drunk. We cuddle naked and listen to music until we fall asleep.
Day Two
7 a.m. I throw up in his bathroom and call a Lyft to get the fuck out of there. He's snoring, still sound asleep. Everything I drank last night is hitting me at once and I feel like I could throw up again. I run outside. The Lyft has bottled water, thank god.
9 a.m. I'm sitting in a Starbucks doing my weekend writing job. The great thing about this job is that I can do it from anywhere. New Guy texted to ask where I went. I told him I wasn't feeling well and wanted to shower before work.
11 a.m. My phone dings. Surprise, surprise, it's my ex. He wants to know if I'm free tonight. I tell him no.
We broke up because he acted like he didn't care about me; now, he's overcompensating. Does it make up for the three other girls he talks to — which he thinks I don't know about? Not one bit.
8 p.m. At dinner with friends at a cute Japanese place and everyone has ordered a drink except me — I'm still feeling pretty wrecked. They all want to go out after. I tell them about my night and say I'm just going to head home.
My best friend hands me his keys and tells me he won't be out long. On the way there I stop to pick up some Cheez-Its and one of those mini bottles of wine, on sale for $1. I lie on the couch, watching Friends from his Netflix account. I crack and text my ex: "I'm thinking about you too." I'm not even mildly tipsy; this is just the first time I've really been alone all week and can process my feelings. He writes back almost instantly. "Good. When can I see you?" I tell him I don't know.
Day Three
11 a.m. I've been at work for a few hours and I'm texting my ex again. Against all better judgment I have agreed to see him tonight. I really shouldn't have — tonight I'm also moving into an Airbnb for the rest of the week. I love my best friend, but I've been craving having my own bed. I don't know how I'm going to get all the way back to my best friend's from work, grab my things, go to the Airbnb, change clothing, and go on this date — but oh well. I have some time to plan.
8 p.m. We've wrapped on filming for the day and I'm waiting for the train. I decided not to change. I'm in a black turtleneck and black jeans with boots. It's fine. My ex said he would pick me up at the Airbnb when I'm ready. I'm nervous. Why am I nervous?
9:30 p.m. He's waiting for me outside, wearing my favorite flannel. He's got his glasses on and looks like a young bumbling British actor. We walk up the street to a neighborhood bar. We've been on-and-off for close to a year now. I think I might be in love with him, but that's a thought I will probably never share. I can't trust him.
At some point during our conversation I lean across the table and kiss him. I can't help it. He asks if I'm going home with him tonight. I say yes.
11:30 p.m. I'm back in his familiar apartment on his bed and he's kissing my neck and my chest. He knows exactly what I like, without asking. I love his mouth. He goes down on me for as long as I want and then comes back up and kisses me. Then he fucks me until we both come. I never mention that I've been sleeping with someone else. Eventually, we fall asleep with his head resting in the crook of my neck.
Day Four
7 a.m. I'm on the train to work wearing my ex's shirt. He left marks all down my stomach and thighs; I can feel the button of my jeans pressing into a particularly fresh bruise. He's already texted to say have a good day. And I'm just seeing it now, but New Guy texted last night. He wants to know if I want to hang out tonight.
12 p.m. On my lunch break I go into the bathroom and send my ex photos of the bruises he left on me. If I see New Guy tonight I should probably NOT take off my shirt.
3 p.m. I tell New Guy yes, I will see him tonight.
7 p.m. We are pushing a scene and are going to wrap later than usual. I text New Guy to tell him we need to reschedule. He says he'll be bartending until midnight and could probably still see me if I wanted. I don't.
9:30 p.m. I'm finally off work and on the train. My ex texts to ask if I want to hang out. I say yes without hesitating and ride all the way to his apartment.
11 p.m. We hang out with his roommates for a minute and then he brings me into his bedroom and undresses me on the couch. I ride him for a little and once he feels like he's about to finish, he chokes me (he knows I like it) until he comes. He's the only person I don't use a condom with. I've been on birth control since high school and get tested for all possible STDs. I am clean; I know he is too. I still worry about getting pregnant, though.
11:15 p.m. I clean up and we get in bed. He tells me we're not done yet and goes down on me. He's truly the best head I've ever had.
Day Five
6:30 a.m. Alone time on the train gives me an opportunity to slap on some makeup. Normally I hate people who do that, but the cars are usually empty this early.
3 p.m. New Guy texts and wants to know if he can see me. He's not working tonight. I say sure.
7 p.m. We're slated to run late again — feeling guilty, I cancel on New Guy. My excuses are getting repetitive and dumb. He's really sweet, but I'd rather just go home and go to bed. Ugh.
9 p.m. My ex texts and asks if I want to come over. I've literally just opened the front door to the Airbnb. I tell him I'd love to but am just too tired. He doesn't offer to come here instead. Typical.
Day Six
4 p.m. A girlfriend texts and asks if I want to go to a show. I say yes. She says her hot friend who recently moved to the city is coming too — I met him once, at a party. I text my best friend and we joke about how it's finally my moment to hook up with him.
7 p.m. Taking a Lyft to grab dinner with my friend and Hot Friend. He's late and when he walks in, it feels like everyone turns to look at him. He's tall and just face-melting gorgeous. My ex texts; I tell him I'm busy tonight. He says he misses me.
8:30 p.m. Hot Friend buys me a drink at the bar inside the venue.
10:30 p.m. We're taking a Lyft uptown to meet my best friend and a few others. I've spent a fortune on Lyfts this week. I vow to use the train from now on.
12 a.m. Hot Friend asks if he can buy me another drink. He also lets me know that he has Champagne at his apartment down the block. I tell him I love Champagne.
12:15 a.m. We end up inside his apartment, where he immediately pushes me against a wall and kisses me. He says a lot of sweet things about how he'd been hoping this would happen. He takes me into his room and throws me on the bed. I mean, he physically LIFTS me off the ground and tosses me onto his bed like I weigh nothing. No one has ever done that to me before; it's kind of super-hot. We start having sex and then he pulls out and finishes on my stomach — not my favorite. He hands me a hand towel from the bathroom and asks if I want a shirt to sleep in. I tell him I have work early in the morning, then give him a quick kiss and leave.
12:30 a.m. I text my ex: "Miss you."
Day Seven
3 p.m. Absolutely wild that it's only been an eight-hour workday. I get to take the train while it's still light out — a huge treat for me.
5 p.m. My ex wants to take me out to dinner AND Hot Guy texted saying he got my number from our mutual friend ("We should go out again soon"). No text from New Guy; maybe he's given up.
8 p.m. My ex and I are at an intimate sushi spot with candles on the tables. We have a bottle of wine. For the first time all week I feel like I look put-together and can tell he's made an effort too. We have a really nice time, then head to one of my favorite bars.
10 p.m. We're sitting in a dark corner where no one can see that my hand is down his pants. He rubs the back of my neck while I jerk him off a little. We briefly discuss taking this situation to the bathroom but ultimately decide we can do way more at home.
11 p.m. In his apartment, on his bed. I'm on all fours. We're role-playing that I'm the babysitter and he's the dad and he found me touching myself in his bed while his wife is downstairs. He spanks me until I know I'm going to have a mark on that butt cheek.
11:30 p.m. He brings me water and we finish the Slender Man documentary we started a while ago. I feel my eyes start to close as I lie on his chest. I don't know what we're doing, but I like it right now, just like this.

Get Sex Diaries delivered every week.
Want to submit a sex diary? Email sexdiaries@nymag.com and tell us a little about yourself.