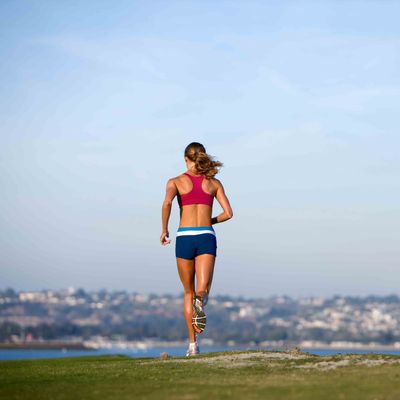 Photo: Tim Tadder/Getty Images
Breasts come in plenty of shapes and sizes, but there are certain challenges that come with being larger than a 34B. Don't condemn yourself to ugly, schlumpy bras — the Cut is devoting this week to finding sexy, supportive styles for big boobs.
Working out has always been a major pain for me — and not because I'm incredibly out of shape (although, to be honest, I kind of am at the moment). It's because I've never been able to find a sports bra that actually fits me properly, except for few that almost work, but also look completely ugly. So my (big) boobs tend to bounce up and down like a pair of five-pound weights every time I attempt any form of exercise. It always ends up hurting my back, and makes running quite unpleasant. You see, I'm one of those women with a difficult bra size: I'm a 32F, which means I'm generally petite, but my cups definitely runneth over. So I need something that's narrow, but can actually tether my boobs to my body.
Thankfully, after years of ill-fitted sports bras and having to wear two (or three) at a time to keep my boobs in place, I've finally found a few that work for me — whether I'm jumping around in a high-intensity cardio class like AKT or just doing yoga in my living room. Most of them are actually even attractive, which was absolutely shocking to me. Here, my top eight sports-bra picks for women with big boobs.
The One With the Best Compression
Photo: sparktank/sparktank llc
I had never actually heard of Enell before I got my hands on this sports bra, so when I opened up the package and saw the ten (yes, ten!) clasps I'd have to fasten to actually put the thing on, I was surprised and immediately figured I'd hate it. But as it turns out, I was so incredibly wrong. Instead, the Enell Sport Bra ended up being my favorite sports bra. It held my boobs down in an incredible way that I had never experienced before — I could even move my arms inward to a higher degree than usual, since my chest is usually in the way. They were compacted so intensely that I felt smaller than I have in years (like since I was 16).
Enell's sizing is a bit weird, and while I'm normally a 32F (or sometimes a 32DDD in athletic attire), I actually wear a size 1 in this bra, which I discovered by comparing my bust and rib measurements with the brand's handy sizing chart. On top of that, it's not actually an attractive bra — when I first saw it, it reminded me of a medical bra someone would wear post-surgery — but as I said, it's truly the most effective sports bra I've ever worn, and looks fine poking out of a chunky tank top. I tried the bra out at a high-intensity interval-training class that involved a treadmill and weights, and my boobs stayed in place the whole time (with no chafing, thank goodness). It's definitely worth the hassle of the clasps.
The Prettiest High-Impact Sports Bra
This bra looks great, and its straps are adjustable, so you can wear them crisscross or just regularly. I had never been able to wear any sort of crisscross bra before, so I was excited to give that a whirl. Unfortunately, I couldn't figure out how to adjust the straps on my own, and needed my roommate's help to get them done up in that way, so I ended up sticking with the ol'-fashion up-and-down regular straps during my workout. But you know what? This bra was great. I took it out for a jog, and my boobs didn't feel like balls of heavy jello slapping against my skin. Instead, they stayed relatively in place, which was a welcomed change for me.
The Sexiest of the Bunch
The HPE Impact Bra is also extremely beautiful. (I guess low-impact bras tend to be more fashionable?) I tried it during a pretty-slow-moving yoga class, and it held my boobs in place well enough while also being light (which is good, as I was quite sweaty). Of course, this bra would not work on a run at all — my boobs would be bouncing all over the place. But for a low-impact activity that truly requires minimal movement, it was more than sufficient, and also a bit sexy to boot, if I might add.
Original Price: $85
The Best Bang for Your Buck
First things first, this bra is the most affordable of the ones I tried (and liked), so kudos to Champion for making a decent sports bra that isn't too expensive. I quite liked this bra, but while I suspect it was intended for high-intensity workouts, it didn't keep my boobs in place too much while running. Instead, it was great for barre class, and could also work with lifting weights or doing something else that's strenuous, but doesn't involve any jumping. The front zipper and clasp took me a second to figure out, but once I got it, I noticed the bra held my boobs up well, and I felt confident in its sleek design.
The One I Wear Lounging Around
This bra, arguably the most beautiful sports bra I have ever worn, looks like a bikini top. I was so excited to test it out at my barre class, but unfortunately, I instead decided to binge on Netflix and skip my workout that day (hey, I had been working out a lot). So I ended up wearing it around my apartment … for several days in a row. And now, I pretty much throw it on most mornings under my hockey T-shirt, when I'm at home drinking coffee and blogging. The bra is so soft and comfortable — it's made of a mix of polyester, spandex, nylon, and presumably Heaven — and holds my boobs down (but not to the degree of a high-intensity sports bra), thanks to its handy underwire and compression. For good measure, I jogged around my apartment a few times to see how it worked. I realized it was definitely sufficient (and lovely) enough for barre or yoga, but not for going on a jog. I will probably put this bra on again when I go home later tonight.
Good for Bouncing Around
I actually wear Chantelle bras in my everyday, nonathletic life, so I was excited to give their high-impact sports bra a whirl. I got to try it in two colors — purple and black — and I tested each of them out at AKT in Manhattan. It's a cardio class that involves a ton of jumping and dancing, which I figured was the perfect test to see if a sports bra could actually contain my boobs. And it did! With every jump and twirl, my breasts stayed firmly tethered to my body. I also broke out an embarrassingly heavy sweat, and the bra seemed to contain it (without becoming incredibly smelly), which I view as a miracle. Chantelle's website says the bra is designed to reduce bounce by up to 68 percent, which it seemingly does through its foam underwire cups, double-lined band, and tight fit (although, I'm not a scientist, so who really knows). Either way, not having to worry about my boobs bouncing all over the place for once made AKT especially enjoyable. Highly recommend.
The One That Made Me Go "Damn" (in a Good Way)
I'm a woman of only average self-esteem, but I've got to say, when I caught a glimpse of myself in the Berlei extreme high-impact sports bra, even I had to say, "Daaaamn." Not only did it hold my boobs in place during an intense spin class, but it also made them look amazing (which has literally never happened for me in a sports bra before). There was just enough cleavage, and my chest was propped up and stuffed in, as if I had gotten some sort of momentary nonsurgical boob-lift. Too bad my spin class was mostly full of women and gay men; otherwise, I may have felt confident enough to actually flirt with a dude after class. Also, Serena Williams is the ambassador for this brand, and I would probably buy nearly anything she told me to as I worship her. Despite my bias, I genuinely love this bra — and would definitely wear it even if a picture of one of the greatest athletes of all time wasn't on the tag.
The One I Wear to Barre Class
This bra was great, and pretty versatile as far as what sorts of workouts I could use it for. It was light enough (and by that I mean, yes, nips) that it worked for yoga, but also strong enough that it could hold down my boobs for a cardio class. The fabric is lightweight, and there isn't any wire, which is always a nice surprise. I wouldn't use it at an HIIT boot-camp class, but it's certainly great for hitting the gym or going to a barre class.
If you buy something through our links, New York may earn an affiliate commission.