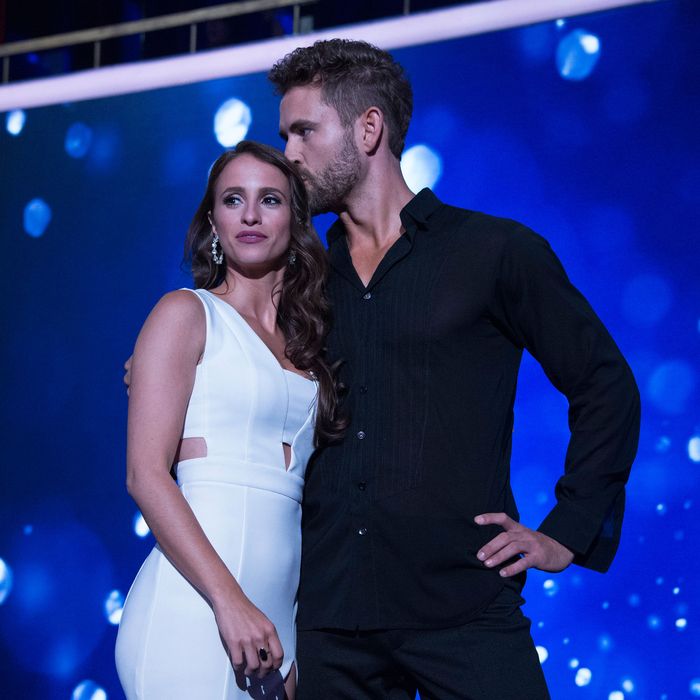 Nick Viall and Vanessa Grimaldi.
Photo: Eric McCandless/ABC via Getty Images
Getting engaged on The Bachelor certainly doesn't mean you're going to live happily ever after, but even the show's most implausible couples usually pretend to tolerate each other for the first couple of months (at least until the spon-con well starts to dry up). Not so for recent finalists Nick Viall and Vanessa Grimaldi, who have made it their mission to disabuse us of any fairy-tale illusions we may still harbor about the show's matchmaking efficacy. Turns out, creating a lasting partnership is a little more difficult than making it through eight weeks of televised date nights, and the new couple have used their post-show interviews to manage fans' expectations about their relationship and remind us all how "tough," "difficult," and "challenging" reality-TV romance can be (can't wait til these two start navigating the U.S. visa process). It may not be a fairy tale, but hey, at they're "being realistic" and "not sugarcoating" anything. Here are some of the euphemisms they have used to describe their journey:

"It's been good, I mean, you know, I'm not going to sugarcoat things. Some days are tougher than others." — Vanessa
"Vanessa and I have never really pretended, even since After the Final Rose, of trying to be that perfect couple. We've been pretty up front of the challenges that come with meeting in Bachelor world — it's not the ideal experience." – Nick
"I think we both went in it wanting to be honest and open about couples …sometimes things can get tough." – Vanessa (responding to allegations that they were 'awkward' on After the Final Rose)
"Relationships are hard in general in life, most relationships fail in the real world and lately the Bachelor's had a pretty good run, and we also recognize that we took a leap of faith and it's not ideal and so far our relationship has been anything but." — Nick
"I think I treated this relationship as if it was a real relationship — in a very unrealistic world." — Vanessa
"She's very much looking forward for this to be over. It was very difficult for us as a couple at the end." — Nick (on dating on the show)
"The reality is — we joke about it, but it's true — we don't know what it's like to go to the movies together, we don't know what it's like to spend time together in the real world. Our relationship has been based off of stressful situations." — Nick
"It's been hard. We live in two different countries, starting a relationship where we don't get the chance to see each other every day and do normal things … I love him, we love each other, but there have been days that have been difficult." — Vanessa
"Any relationship you're in, you want to make it work. We know we have a long way to go, but we're still realistic. We're still getting to know each other. That's the reality." — Nick
"Like any relationship, you have your ups and downs. Although we had tough conversations, we had a lot of fun and light conversations. So it was important for me to know we would be able to get past those hard conversations." — Vanessa (on their tumultuous onscreen relationship)
"We have not discussed wedding plans yet. We're going to first figure out where we want to have dinner together as a couple and things like that. We're very realistic and we don't pretend that we knew each other for a year before we got engaged, that's not our situation." — Nick
"We are taking baby steps." — Vanessa (on planning their future)
"I was dating 29 other women at first … [Then] it was long-distance at first and then we had to relive that entire process together [on TV], which is difficult and challenging … We just decided to be upfront about those hurdles that I think every Bachelor couple before us has faced, and we just didn't feel the need to sugarcoat it." — Nick
"I don't think any relationship is perfect." — Vanessa
"We've been pretty upfront about having a lot of things to work on, and we're excited about doing that. So we don't feel any pressure like that. We're just kind of doing our own thing." — Nick
Best of luck to these two lovebirds.