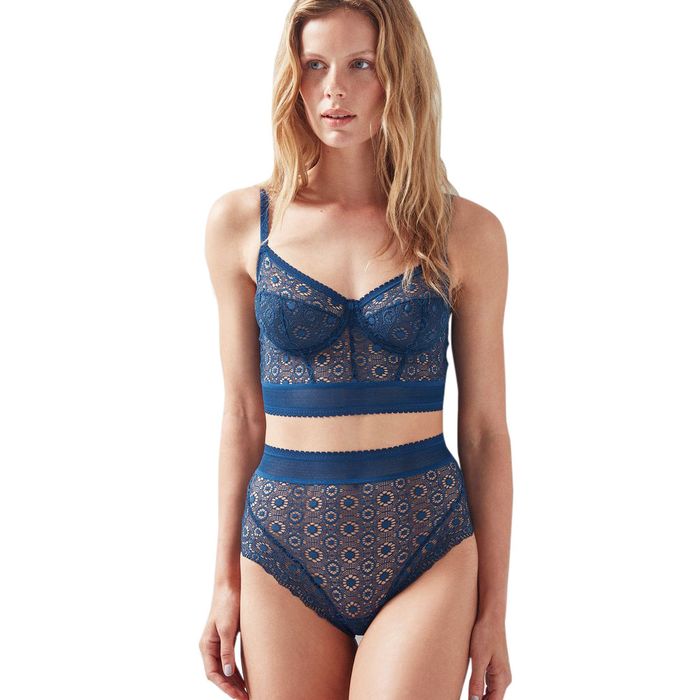 Breasts come in plenty of shapes and sizes, but there are certain challenges that come with being larger than a 34B. Don't condemn yourself to ugly, schlumpy bras — the Cut is devoting this week to finding sexy, supportive styles for big boobs.

Coachella kicks off what anyone who gets too many promotional shopping emails knows as "festival fashion" season. For a certain subset, that means flower crowns, layered chokers, and cutoff jorts — all taken to the extreme, though not everyone buys into hyperboho clichés. Somewhere in the middle lies the bralette trend. They're desert-heat friendly without being plain. Plus they allow you to layer while being as subtle or as revealing as you want to be. But for large-chested women, these lacy bits are something we look at longingly while muttering "must be nice." A life free of underwire and an endless supply of chic, delicate, and ultimately flimsy bralettes is probably not in the cards — especially since most only accommodate a C cup at best.
There are many things I have learned to accept with the blessing and curse of having a 36D to 36DD chest, give or take depending on the month (bodies are fun!). Finding the right strapless bra requires great patience and copious amounts of waving my arms about in the dressing room to check for slippage. I know certain trends, such as the currently ubiquitous off-the-shoulder blouse, will make me look like a bulky, shapeless tent with a squished-down boob shelf and therefore never work for me. As a reflex, I cross my arms in front of my chest while running up stairs. Underwire is my lifelong frenemy; while I've managed to find bras that are not uncomfortable, I will always be aware of its constant presence and feel naked if I'm wearing a wire-free bra. Given that it's my almost literal safety net, it seemed like bralettes were completely out of the question.
But something about them kept drawing me back to the dressing room, where I wondered if I'd ever be free from the tyranny of boring bras I cannot hope to layer like an Instagram model. Maybe it's because bralettes would be an easy in to my favorite lazy styling strategy of wearing a simple outfit with one not-so-lame piece. I'd finally be able to wear those low-cut, oddly slit, or airy-armhole dresses and shirts I've left in my online shopping carts because they were too revealing. My only options were to wear a plain cami underneath and risk looking like a middle-school-yearbook photo or skip the protective layer and worry about sharing more with the world than I was prepared to.
And then I came across Else Lingerie. My favorite style, in a weird coincidence, is called Coachella. It's not a true bralette — there's an underwire for support and it's just about as comfortable as any other piece in my underwear drawer (one day science will get there). But the lacy design and rich jewel tones make them a heck of a lot prettier than your average *extremely old-timey broad voice* ovah the shouldah bouldah holdah. With sizing that goes up to a 36E, they managed to do the impossible: construct a trendy silhouette for a woman who is definitely larger than a 34C.
At a glance, the Coachella looks no different than any run-of-the-mill bralette — it's just as delicate and light with feminine lace patterns, sexy sheer details, and a rainbow of beautiful colors. The only difference? The addition of a well-camouflaged underwire along with a wide, comfortable lacy band that features a secure five-hook back clasp. The combination of these three features provides the right support to keep your boobs lifted, as they would be in a traditional bra. To prevent painful shoulder digging, Else swaps out the flimsy spaghetti straps for soft, thicker ones decorated with matching lace, combining form and function. While nothing will be as sturdy as a traditional bra, this finally lets those who've had to sit on the sidelines join in.
The only aspect that leaves me self-conscious is the actual cup coverage, which seems more proportional to smaller cup sizes than fuller ones. It's entirely possible that is a side effect of being a recent bralette convert, unaccustomed to this low-cut, lacy life. But now that it's finally warmer, I'm excited to go summer shopping knowing I have these sturdy bralettes in my arsenal. I don't even necessarily mean shopping in a store: I already know of a handful of dresses and tees in my closet that have a second life this season. I probably won't ever go to Coachella, but damn if I'm not ready.
If you buy something through our links, New York may earn an affiliate commission.