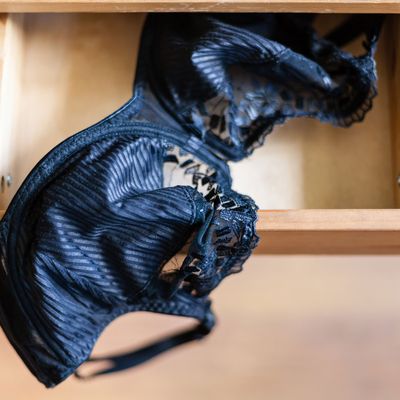 Photo: Valery Voennyy/Getty Images/iStockphoto
Breasts come in plenty of shapes and sizes, but there are certain challenges that come with being larger than a 34B. Don't condemn yourself to ugly, schlumpy bras — the Cut is devoting this week to finding sexy, supportive styles for big boobs.
"I buy all my bras in Paris," I once confessed to an ex, who laughed, because that's by far the bougiest thing about me. In reality, that's only partially true. I buy most of my bras there. It's not exactly a matter of choice — America just doesn't do big boobs justice. Throughout my teenage years, like everyone else, I shopped at Gap Body and Victoria's Secret. I don't think I got fitted more than once or twice. I don't remember if the women who fit me were young or old, experienced or inexperienced. I don't remember if I felt awkward, but I do remember the verdict was an unwavering 34C. In reality, I'm a 32G.
I never questioned the 34C, in part because American bras bigger than a D cup are just so ugly. A pretty lacy number with painted flowers would suddenly morph into a heavily seamed and padded contraption in a sad shade of white or beige. "I'm sorry," the well-meaning saleswoman would plead, "but we don't have that bra in a higher size. Would you like to try this one instead?" Like most of the other girls my age, I'd opt for the better-looking option. I convinced myself a little discomfort — be it having each boob cut into two by a minuscule cup, or the awkward gym-class dance I'd do trying to keep them from bouncing when running or playing basketball — was part of being alive. Years of having a large chest has taught me that bras are like vintage shoes: They're only cute if they're really small. If you're a shoe size 8 or above, you probably gave up on vintage shoes long ago. Walk into nearly any American lingerie purveyor and you'll find that most of the offerings are beautiful up to a size C, if they even carry anything past a D at all.
French lingerie taught me you don't have to be relegated to the sad, beige, and ribbon-less corner of the Macy's lingerie department if you have big boobs. I discovered this later than a French girl should, and strangely enough, in America. A similarly busted friend told me she bought all her bras at a specialty store on the Upper West Side in New York City, the Town Shop. "It will change your life," she promised. And it did.
The Town Shop, which carries bras from 70 different vendors in cup sizes ranging from AA to K, and back sizes 28 to 46 (combined, the two become the number you know to be your bra size), is a magical place, and the women who work there are magicians. You take your shirt and bra off. They take one look at your breasts and they know what size you are. They step into the dressing room with you, they listen to your needs, tastes, and demands, and they come back with options that are aesthetically pleasing as they are functional.
My first time there the saleswoman brought me three Chantelle bras — one for T-shirts, one for looser dresses, and one for everyday wear. The T-shirt bra was dark gray and thinly padded so it would be virtually invisible under a top. It was finished with a thin lace trim and had a little bead in the center. The other two were also lacy, but pad-less. The former was a black demi cup that made me feel like my boobs were pieces of art on display while the latter was dark purple and offered more coverage. All three of them were sexy, and held me exactly as I wanted — tight enough to keep my breasts from bouncing when I walked, but not so restrictive that they left uncomfortable band marks on my ribs.
Chantelle, along with Marie Jo, Prima Donna, Empreinte, Natori, and Anita are among the Town Shop's top-selling brands right now. With the exception of Natori, they're all based in Europe. "It's the French, the British, and the Belgians. They're doing it right," says Danny Koch, the fourth-generation owner. He's baffled, but says he thinks that "unfortunately, the U.S. companies serve the masses. They see a cup or back size that's not as profitable and they pull it." The beauty of these European companies is that they aren't afraid of making sizes that won't sell out right away because "they know that eventually they're going to sell." Koch credits Oprah for an uptick in the production of larger cup sizes, following several bras-for-bigger-busts segments she aired in the mid-2000s. Chantelle's U.S. president Sonja Winther agrees. "Oprah single-handedly shifted the bra market. Thanks to her, women stopped being ashamed of being bigger than a C cup," she says.
"Not to oversell it, but Chantelle and the Town Shop literally opened up the possibility that I could be sexy and there wasn't something fundamentally wrong with my body," said the same friend who introduced me to the Town Shop, recalling that bra-shopping in her teen years often ended in tears. "I thought I was destined to wear grandma girdles." Or, in the case of another big-busted friend who recently accompanied me on a bra-shopping expedition, sports bras. She thought they were the only thing that would fit her, that pretty bras couldn't possibly give her the support she needed to get through the day.
As for me, I prefer lacy demi cups, not for any real reason other than I think they're cuter. Until very recently, before sizing out of these models (they only go up to an F cup), I wore the Vendôme Lace Unlined Demi Bra and Parisian Unlined Demi Bra nearly every day. I'm switching over to Merci Demi Bra since it goes up to a G and then I have the Festivité if I want more coverage. If you want more options than that, Chantelle's best sellers in the U.S. are C Magnifique and Rive Gauche, both of which go up to an I. Take it from me, you don't have to wear ugly bras if you don't want to: You just need to find brands that make bras for real people, not "core sizes."
Shop the Story
If you buy something through our links, New York may earn an affiliate commission.