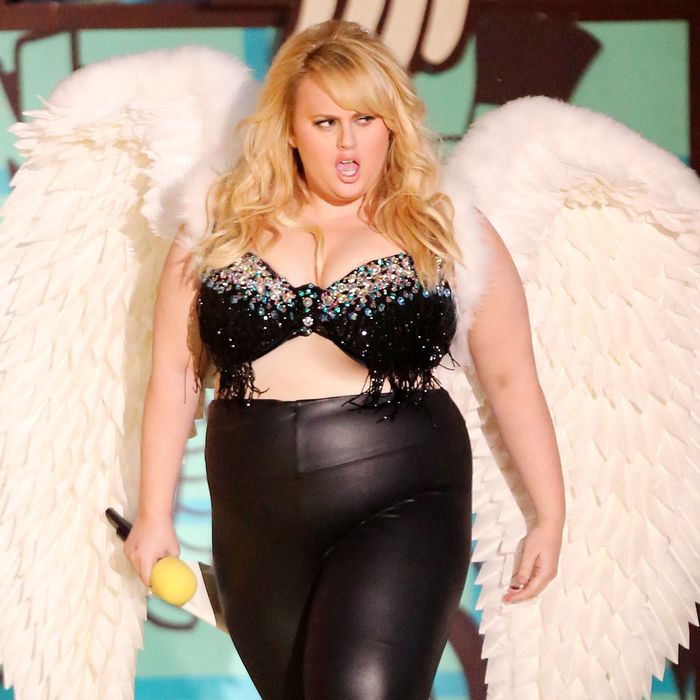 Everyone should be able to look this good in their bra.
Photo: Paul Archuleta/FilmMagic
Breasts come in plenty of shapes and sizes, but there are certain challenges that come with being larger than a 34B. Don't condemn yourself to ugly, schlumpy bras — the Cut is devoting this week to finding sexy, supportive styles for big boobs.
One time at a party a stranger was complaining about finding clothes to fit her big boobs. She turned to me and said, "You get it, right?" Me? With Big Boobs? I felt like I had fooled someone! Sure, I wear a D-cup, but that's just because all of me is plus-sized. My boobs fluctuate with my weight. Whenever I start to lose a few pounds they're the first things to go — not my belly, my arms, my thighs. My frickin' chest. It's like some cruel joke. But it's also a good reminder that boobs are just fat.
And since boobs are just fat, I've always thought that I should be able to utilize all the fat of my upper body to make them look bigger. So, for me, putting on a bra is always an elegant dance of squishing all the side and back fat into two soft, desirable D-cups. It's my right, really.
I worked at Lane Bryant for a summer in college and one of the things they really stressed was how we should offer to measure every woman, because most people wear the wrong bra size. But then at one point I measured myself and tried on bras in that size (I don't even remember what it was, like 36B or something) and my boobs were like a bunch of dough leaking out the side. So I adopted the idea that your bra should present your aspirational breasts as much as it should be comfortable. Sure, they may be fat sacks covered in stretch marks, but in the right bra they can look round and perky and huge.
I recently had a rough period of a few weeks when three of my favorite Cacique bras broke in quick succession. That meant it was time for a change. On a visit home I had rekindled my high-school plus-size clothing romance with Torrid when I spotted it at the mall and I thought maybe they'd have the type of bra I was looking for. So I schlepped it over to Ridgewood and tried on as many sizes and varieties of bras as possible.
Whenever I first try on new bras, I'm always a little coquettish about the whole thing. Like, "Do my boobs look … obscene in this push-up? Are they … too perky? Do I need to be able to rest my (double) chin upon them?" By the end I'm drunk with power, yelling, "Bigger! They can be bigger!"
After about 20 different bras in a few sizes I settled on the Smooth Cup Push Up Demi Bra in royal blue (that was the one they had in the store). I've since bought it in black and nude.
I never worry about my nipples at all in this bad boy, because it is so well-padded. The bra covers everything! And the band is nice and thick. I guess to some people this would be a turnoff, but the lace trim makes it pretty cute. And when you're shopping for plus-size bras, sturdiness is sometimes just as important as sexiness. Nothing's flopping around in this. It goes up to a 48DDD and makes me feel so, so confident.
It accommodates as much back fat as possible, but I don't ever feel like I'm heaving to try to fit everything in. Look, it doesn't perform miracles, I still have all this back fat. But your fat doesn't bunch around the straps and band, so it has pretty clean lines, the smoothest I've ever had with a bra.
It also makes my boobs look like two huge boulders and I like that. I can barely feel the underwire, but when I put it on it instantly props my boobs up, gently holding them in a perfect round shape. When I look at it in the morning I'm always thinking, "Oh boy, this is huge," but when it's on it never feels too bulky. The underwire and lace trim shape me so that my breasts and my waist are separate entities, not just one indeterminate mass.
It's also insanely comfortable; those microfiber cups are so, so soft (like its name promises). It's one of the first bras I haven't immediately felt the need to rip off when I got home. In fact, I find myself wearing it around the house when I have no plans of going out at all, like some crazy person.
I might not understand the struggles of boobs causing you back problems, but I do understand the struggles of just trying to make your body work for you the way you want it to. This bra makes it easy, and that is really invaluable.
If you buy something through our links, New York may earn an affiliate commission.