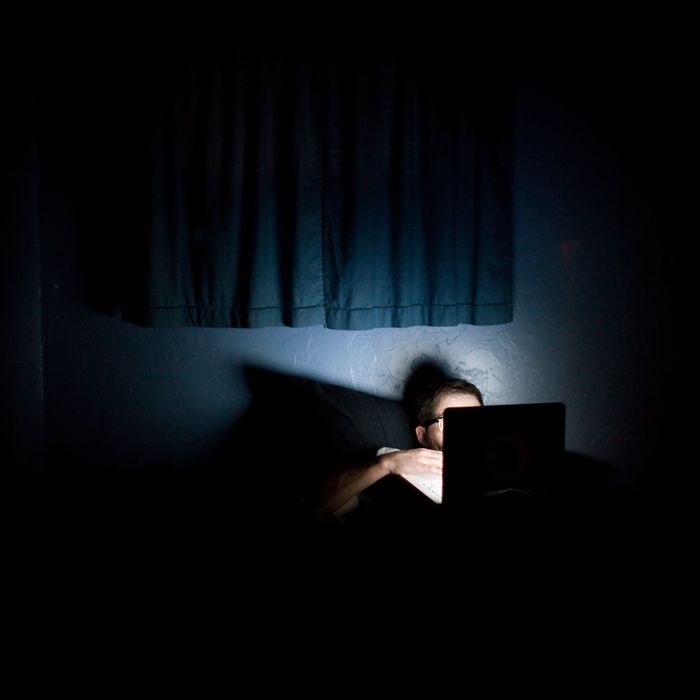 Photo: Joel Addams/Aurora Creative/Getty Images
When I was in my mid-20s, I found myself in a long-distance relationship. In New York terms, that meant I was dating someone who lived one hour and two subway transfers away, and his grad-student schedule meant we saw each other even less frequently than that would imply. During our months together, we made plenty of fumbling attempts to bridge the public-transportation gap via digital intimacy, but the one I remember most vividly was borne of the sort of spice-up-your-sex-life pop psychology on which women's media has traditionally thrived: Watch some porn with your partner! Learn about each other's fantasies!
The occasion's memorableness was not, unfortunately, a product of how sexy it turned out to be. When I tell this to friends, they tend to assume the story ends with my ex sending me a link to some kind of intense, vaguely abusive fetish video that would cast a pall over our sex life for the remainder of our relationship. The reality of what happened, however, is so far at the opposite end of the spectrum that it demonstrates just how many ways this commonplace advice can go south. What happened was this: One evening, over Gchat, he sent me link after link to videos of hand jobs, filmed from the man's POV, in which the dude in question finished in (but without the aid of) a woman's mouth. And although jacking off to that is certainly a choice you can make, the idea felt firmly in violation of my own sense of sexual aesthetics. He had the entire visualization of human sexual experience at his disposal, and he chose highly specific hand jobs.
As I sat watching those videos — and I watched them all, in the vain hope that he might also fantasize about something I found exciting, or at least interesting — I became both worried about the long-term compatibility of our sexual imaginations and annoyed that he couldn't take the temperature of the situation and come up with something he liked that he thought might also interest me. In my mind, this was clearly all meant to be a mutually gratifying activity and not just a data dump of private proclivities. Both of these problems were conjured out of thin air by my request that we share porn — the actual sex we had was fun, and my ex's private appreciation for the hand-job arts didn't necessarily mean anything in particular about the interpersonal parts of his sexuality. So why had I insisted he share, and why had women's media been telling me since I was 15 that it would be a good idea? Perhaps — honesty and sex positivity be damned — some things are better when you keep them to yourself.
The suggestion to watch porn with your partner is so commonplace that a simple Google search of the phrase turns up results in favor of the practice from sources as disparate as the New York Post and the Astroglide company blog. Most focus on the same basic logic: Showing your partner a video of something you like might be easier or less awkward than trying to explain it in words, and sexual communication is important in satisfying relationships. And while that might be true in a certain literal sense, its usual application to porn-sharing fundamentally misunderstands why people like the porn they like and the role watching porn plays in their sex lives.
Sloane, 34, told me she's reluctant to watch porn with partners, in spite of her own avid interest in it, because of exactly those unnuanced assumptions about how someone's taste in porn relates to their actual sexual preferences. "Men will take your porn literally when what you want is the feeling from the scene. You watch a gang bang because you may want to be overwhelmed with attention and used and spent and desired. You watch kink because you want to understand what it would be like to be out of control." When I asked Dan, 33, if he thought this was a fair expectation of how a man would interpret a woman's taste in porn, he didn't equivocate. "I mean, yes. I'd assume it would include some context clues, but I'd think she would be into [what was in the video]."
Sharing porn might sometimes make it easier to start conversations you want to have, but trying to channel your intentions through a third party's images is a delicate, inexact process. Erin, 28, tried sharing her porn preferences with her ex-boyfriend for the reasons people are frequently encouraged to do it: She wanted him to slap her, among other things, and she thought a video could help where words had failed. "I gave him my log-in and asked him to watch a particular video I enjoyed since this was something he was completely new to." In her case, porn-sharing worked as advertised for the particular things she wanted to try, but it also had some unintended consequences. "He caught on to the fact that I watched the hell out of a video that featured something I wasn't 100 percent sure I was ready to try. It opened the floodgates for a conversation that ended in me drunkenly trying to justify why I wasn't quite ready to eat ass."
Erin says she'd try it again if she felt like she needed to illustrate something specific, but the experience wasn't without unfortunate lessons: "If you like rough sex, sharing that with someone can leave you vulnerable in ways that aren't only emotional. It can open doors you may not necessarily be ready to walk through."
But beyond the miscommunications that sharing your pornographic predilections can cause with a partner imperfectly equipped to interpret them, there's also something to be said for privacy as a sexual concept. Getting to know someone's sexual self isn't about diving into their preferences as deeply and quickly as possible; it's a process, and if it's slow and imperfect, that's not necessarily proof that visual aids are necessary. Instead, it might just be proof that intimacy is gradual and ever-building.
Besides, almost everyone I spoke with, at one point or another, referred to their consumption of pornography as their "'Me' time" — for reasons ranging from concerns over potential kink-shaming to a simple desire to keep something reserved for themselves in relationships that span the better part of a decade. And it wasn't just women who felt a little shy about laying bare the furthest reaches of their sensual proclivities for inspection by their partners. Chris, 34, wasn't super enthusiastic about it in spite of some positive past experiences. "I definitely have watched porn with partners, and spoken with women about porn, but it does feel super invasive when someone asks what kind of porn you like," he said. "That's my creepy 'Me' time." And that's true of all of us: Consumption of pornography is primarily an opportunity to let your imagination run wild, whereas intercourse is fundamentally interactive. One informs the other, but letting them bleed together too much risks both the pleasure of personally consumed taboos and the thrill of peeling back a new partner's layers, one by one, in favor of a frank video demonstration.
Just like it blurs so many things, digital life has blurred the boundary between internal and external sexual expression in ways that would have been impossible without instant access to unlimited video and a share button on every PornHub link. In the end, though, this may be one of the few areas of modern romance where abstention is the sexiest option.