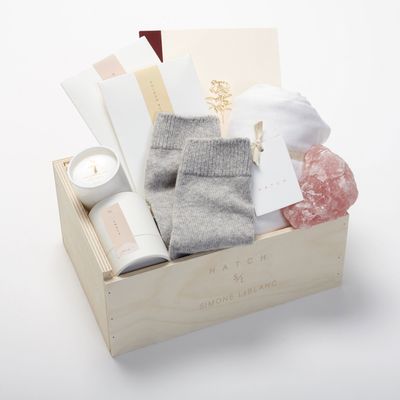 Good to Glow gift box.
Photo: Courtesy of Simone Leblanc
It's never easy shopping for gifts, especially for our moms, who deserve the best. But with Mother's Day less than a month away, maternity-apparel line Hatch Collection partnered with specialty-gifts brand Simone LeBlanc to put together the Good to Glow gift box as a quick yet thoughtful gift for mothers, or anyone who could use some help trying hygge. A percentage of all sales will go to Alliance of Moms, which aims to break the intergenerational cycle of babies born to teens in foster care.
The box includes everything you need to wind down — an ember votive candle, two different kinds of organic tea (masala chai, golden nectar), a Memories & Moments journal, a rose quartz geode (the love crystal), and a Hatch nightgown and cashmere socks. Just reading that we're already relaxed.
Good to Glow Box, $168 at HATCH Collection