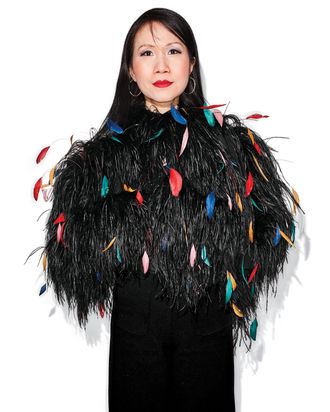 "Jared and I don't talk that much anymore."
Photo: Bobby Doherty/New York Magazine
Chiu-Ti Jansen, Media Executive
Tell me about this jacket.
It's an ostrich-feather coat designed by Bill Blass from the 1970s that I got on 1stdibs. I actually don't get to wear it very often simply because of the fragility of the material.
What does being a media executive entail?
I own China Happenings, a company that specializes in U.S.-China media productions; through that, I founded Yue magazine, a Chinese-English luxury-lifestyle magazine with Observer Media. Jared Kushner and I were 50-50 partners until the magazine closed in 2014. Jared and I don't talk that much anymore — the last time I saw him was at an inaugural ball. We actually launched our magazine with a party at Trump Tower, and I invited Donald Trump. At the time, Jared was very reluctant to ask his father-in-law to do anything, and I was the one who got Donald to come to the party — I used a free ad in the magazine as an exchange. I did a business deal with Trump!
Lightning Round
Neighborhood: Tribeca.
Born in: Taiwan.
Last splurge: Two Mary Katrantzou dresses.
Trump thoughts: "I don't want to say. I belong to two groups: My friends from the business world are pro-Trump, and my friends in the art world are very left-leaning. I stay neutral."
*This article appears in the April 3, 2017, issue of New York Magazine.