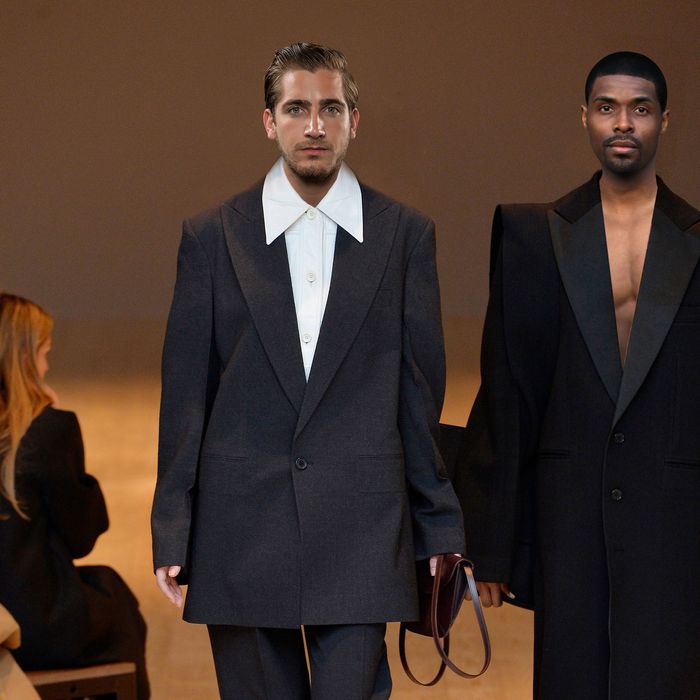 That Céline isn't designed for men doesn't stop them from buying it.
Photo: Catwalking/Getty Images
Like so many fans of fashion, the stylist Megan Bowman Gray has an unabashed love of the French label Céline. "I've always felt that Phoebe understands women," she says, referring to the brand's designer since 2009, Phoebe Philo. "The fact that she's a working woman, that she's a mom — she makes things that make you feel strong and powerful while you're wearing them," she says. "She's on a level all to herself. I've been a collector of hers for the last six years. I think she can do no wrong."
Gray's husband, the film producer Hunter Gray, shares in his wife's enthusiasm, and has amassed his own haul of choice items from the label, including some outerwear pieces — a mackintosh, a blue coat with cream pinstripes, and a floral-print leather jacket — and some shirting decorated with ribald illustrations of women's breasts. All this despite the fact that, technically, the brand doesn't make men's clothing.
"It was in an editorial and I showed it to him," Gray says of the leather biker jacket decorated with colorful flowers, "and he contacted this woman down at the Bal Harbor store. That started our Céline addiction together." Hunter has a relatively staid daily uniform, his wife says, of black T-shirt and dark jeans. But he also owns pieces like Rick Owens skirts and has a penchant for Yohji Yamamoto and Alexander McQueen. "When you first see him you'd never think in a million years that he has this passion for design," she says.
Philo's influence since taking the reins at Céline shouldn't be underestimated. Her soft minimalism, idiosyncratic femininity, and penchant for clunky, oversize tailoring has reverberated throughout the industry, and she's defined the dominant look for the better part of the last decade. She's the reason everyone adopted Birkenstock sandals a few seasons back. Ditto Vans slip-on sneakers and Adidas Stan Smiths. It's because of her that women opt for cocooning, droopy sweaters, voluminous trenches or top coats, and slouchy trousers — all this following the skinny-jeans and bandage-dress years that came before. Philo's erudite glamour now seems like it was always preordained, but it was a revelation when she inched it into the zeitgeist with her early collections at the LVMH-owned brand.
It's only fitting that as men become less tethered to traditional gestures of masculinity, they'd be open to adopting the look of the most influential designer of our current era — no bother that her clothes aren't designed with them in mind. Kanye West was a pioneer when he made waves by wearing one of her printed blouses at Coachella in 2011, and Pharrell has been known to wear her clothing, from a millennial-pink Crombie coat to her skater-inspired sneakers. GQ shot Williams in a $64,000 Céline fur coat and has endorsed dressing more like the designer.
The notion of gendered dressing is becoming less important to a new generation for whom queer culture has been mainstreamed and gender fluidity is the new norm. And Céline is arguably the most hyped brand currently on the market, with signature pieces that take a knowing eye to ID — it's the ultimate insider's label. Naturally, men want to partake in its ability to transmit that the wearer is part of a certain fashionable in-crowd.
"I love that gray area: it's women's but it's supposed to be masculine; it's men's but it can be worn by women," says Teddy Feher, founder of the business consultancy agency Merce Worldwide. "I love both of those things." Feher has purchased bags and leather goods from Céline, including the horizontal tote-bag style, which he uses as a beach bag, albeit one with a four-figure price tag. "It's a really good shape. Céline is very masculine as a brand, so I think it works," he says. "It reminds me of Sofia Coppola. She always wears Charvet shirts, which are men's shirts."
On a recent weekday afternoon, the Céline store in Soho is an oasis from the busy streets, empty save for a tourist couple and a young blonde with a taut frame trying on a floor-skimming skirt. The store is tasteful, almost to a fault, with its artful marble-and-stone inlaid floor tiles, dove gray walls, and verdant green plants in earthenware pots, all cast in a stark yet charitable glow by the large light boxes hovering above.
I ask to try on some large two-tone bucket bags with fat shoulder straps and a boxy black coat in lightweight virgin wool. The saleswoman, a severe brunette, doesn't flinch when I ask her what size she thinks I might be. "Don't be nervous," she intones. "Lots of guys shop here." While the bag is a little too eye-catching, the coat is funky yet subtle enough for a guy to reasonably pull off without raising too many eyebrows. It strikes the perfect balance between flashy and quotidian; I'd buy it, if it weren't for the hefty price. She shows me a navy turtleneck sweater and a white leather biker jacket. "These pieces have been doing especially well with our male customers," she says. When I press her for details on who, exactly, this man is, she demurs. Discretion is almost as important to the Céline shopper as style.
Emmanuel Sénat, a stylist and creative director at Unbiased magazine owns a pair of silk pants — which are like a cross between sweatpants and pajama pants, he says — a few cashmere crew-neck sweaters, and a large leather bag from Céline. "As a brand, they've created themselves to be more than just fashion," he says, trying to explain his attraction to the brand. "It's like a type of person. It's a philosophy, a lifestyle, a choice that goes beyond the clothing. It reflects who you are as a person."
He directs me to an article from AnOther magazine called "The 10 Céline-isms: Live Life The Céline Way" to understand its appeal. "Less is always more," one of the dictums reads, in addition to "Establish a uniform," "Think wider than fashion," and "Know what you're talking about."
To Sénat, the idea that a brand is for a certain sex is passé: a garment is mutable. "When I wear it, it's automatically a men's piece," he says. It reminds me of Louis Vuitton's recent move to cast Jaden Smith in its womenswear ad, with little fanfare. "It's always been accepted that women can wear men's pieces." Plus the response is positive. "Whenever I wear it, guys always ask me who made it."
Feher echoes that sentiment: "My girlfriends encourage it, they think it's really cool," he says. "They like seeing different ways to see the collection. My guy friends don't wear it which is nice, because then it's like my thing."
When Bowman and her husband go to the seasonal show, he'll wear his Céline jacket, in an act of rebellion and solidarity. "He'll see a lady nearby wearing the same one," Bowman says with a laugh. "He gets excited and I think she'll be like, Oh, that man has my jacket."