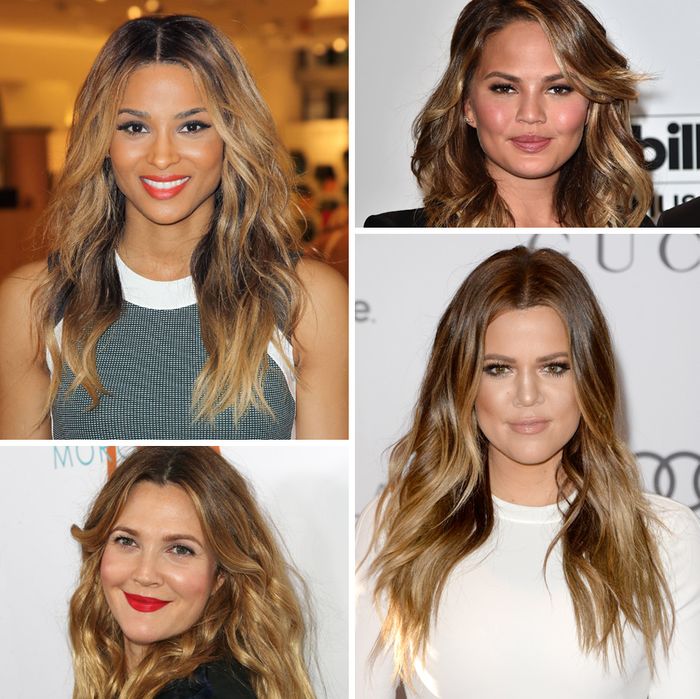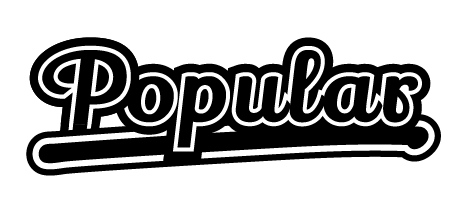 An investigation into the joy and pain of fitting in: With this series, we're exploring the pathologies, hierarchies, and quirks of female socialization from high school to the workplace and beyond.
By the time I was born, a woman had to cut her teeth at a perm station in order to fit in. Or if it wasn't a perm, it was a teasing comb; fuchsia blush along her cheekbones; eye shadow of the lilac or periwinkle variety; scrunchies; crimped hair. Along with every decade arrives a look — one that communicates the ethos of the era — and the '80s look was as loud and recklessly ambitious as the decade's power tenants.
The look du jour strikes a quieter note. It's in the honeyed balayage ends that I pass on my daily commute; the woman on the train flicking her face with pencil to fake a believable thicker brow; the soft waves and curls that I love and hope never become style sacrilege. Though it's a tall task to delineate the mythology of an ongoing era's preferred aesthetic, it's not impossible. Hand-painted highlights, bouncy hair, and enormous eyebrows are everywhere. As my colleague Kathleen Hou wrote, we're all becoming beauty clones, and social media and the porous net of celebrity is mostly to blame.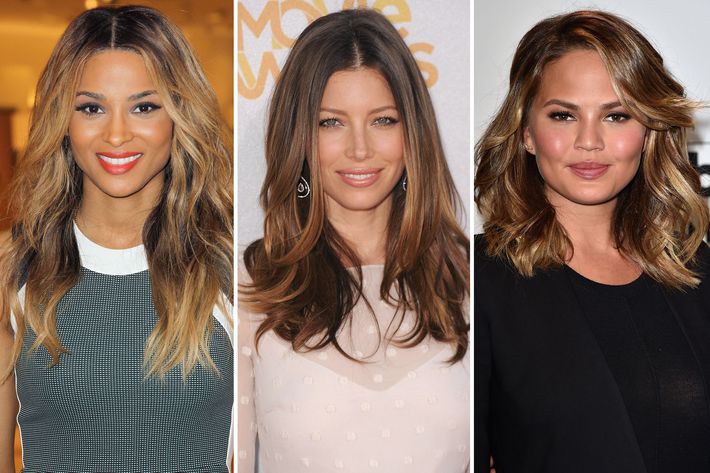 LOOK ONE: Bronde hair
Definition: A multi-tonal, multidimensional hair color that is a blend of blonde and brunette, hence the name "bronde." Colorists typically hand paint hair using a highlighting technique known as balayage.
Popularity onset: Mid 2010s.
Celebrity poster child: Jessica Biel, Chrissy Teigen, Drew Barrymore, and Ciara.
Is it expensive? Yes. Depending on the city and salon, balayage treatments range can from $150 to $600.
Preceded by: Ombre highlights.
Pros: Growing out bronde is easier than more dramatic hair colors, as the tones blend more seamlessly with a wide range of natural hair colors.
Cons: Balayage is expensive and can be damaging to those with thin strands or chemically relaxed hair.
Mèche Salon sits on a small block in Beverly Hills, and is patient zero for bronde. Tracey Cunningham, the salon's intrepid co-owner, doesn't accept new clients anymore because her schedule won't allow it. Such is life when your hands whisk an unbelievably natural red on the head of a baby blonde (Emma Stone), introduce a blonde Kardashian to the fray (Khloé), and make sure that a self-appointed wellness savant and natural brunette looks anything but (Gwyneth Paltrow).
But the Mèche factory churns out bronde with the most frequent regularity. "Bronde is such a favorite with so many of my clients," Cunningham wrote to me. "It's natural looking and flattering on every skin color."
It's bronde's universally flattering edge that I can only hope lends to its modern popularity. It doesn't discriminate who it bathes in a veil of annoyingly beautiful golden light. A bronde wash looks as striking on Ciara as it does on Mary J. Blige or Sarah Jessica Parker. Think of bronde as the democratic hair innovation that will still cost you a sizable mint.
LOOK TWO: Thick brows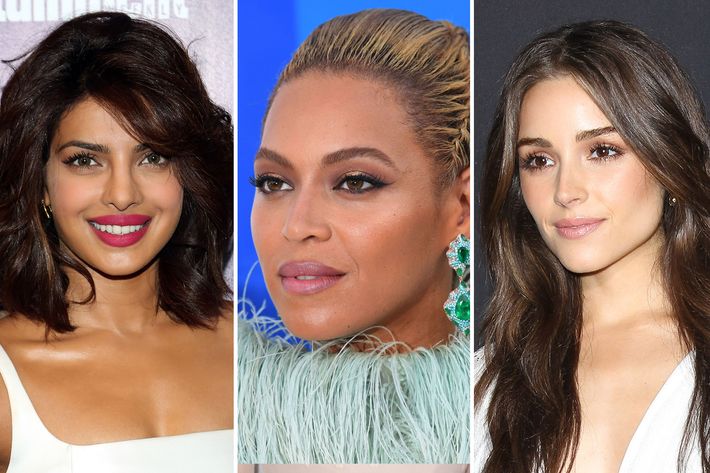 Definition: It's as simple as it sounds: Eyebrows that are made to look longer and wider with the aid of pencil, cream, or powder.
Popularity onset: Early 2010s.
Celebrity poster child: Olivia Culpo, Beyoncé, Cara Delevingne, Priyanka Chopra.
Is it expensive? Not really. Do-it-yourselfers can buy a brow pencil for a few dollars. Fancier folks can hop in the chair of a professional brow groomer for between $30 and $70. Groomers will pluck, thread, or wax stray hairs and fill in sparse areas.
Preceded by: Lighter, thinner brows.
Pros: Less waxing, plucking, and overall brow pain.
Cons: Novice users run the risk of drawing Bert- and Ernie-style caterpillars.
It's difficult to parse how the sperm brows of the '90s and the boxy thin brows of the early aughts led to today's ultrathick brows, but here we are. One could look to the rise of eyebrow experts as the current aesthetic's chief advocates. Stylists like Damone Roberts (who is dubbed the king of eyebrows), Anastasia Soare (proprietor of cult brand, Anastasia Beverly Hills), and Sania Vucetaj (the architect of the modern, wedge brow pencil) have achieved celebrity in their own right, and so has their message of war against sad, puny eyebrows.
As a brow consultant at Bergdorf Goodman in the '90s, Vucetaj was tasked with the tall order of talking women out of over-plucking. Her directive slowly caught traction, but for those still recovering from the razor brows of decades yore, Vucetaj's advice is simple: "Leave your eyebrows alone." By this she means don't bother with pricey growth serums and keep moisturizers away from brows as much as possible, as they clog hair follicles and hinder the birth of thicker brows. "Just like the hairs on your head, too much moisturizer can block follicles," she explains. "Let your eyebrows breathe!" Don't expect the process to be quick, however. It takes 6 to 12 months to grow thicker brows.
In addition to the booming celebrity of brow gurus, the framework supporting the importance of eyebrows has amplified. Eyebrows can reveal your age, fake a facelift, and mold the shape of your entire face — at least that's what experts continuously advocate. And to cash in on the crusade for perfect brows, big makeup brands are now tossing their hats into the niche market. Last year Maybelline rolled out a hearty lineup of brow SKUs, including brow pencils, powders, creams, and defining gels. At the same time, Benefit launched a nine-piece collection to cater to brows. More recently, eyebrow extensions and microblading, where tiny semipermanent tattoo strokes fake fuller brows, have reached their own level of popularity. Those options aren't cheap, however. Expect to pay between $95 and $300 for extensions and around $1,000 for microblading.
LOOK THREE: Soft waves and natural curls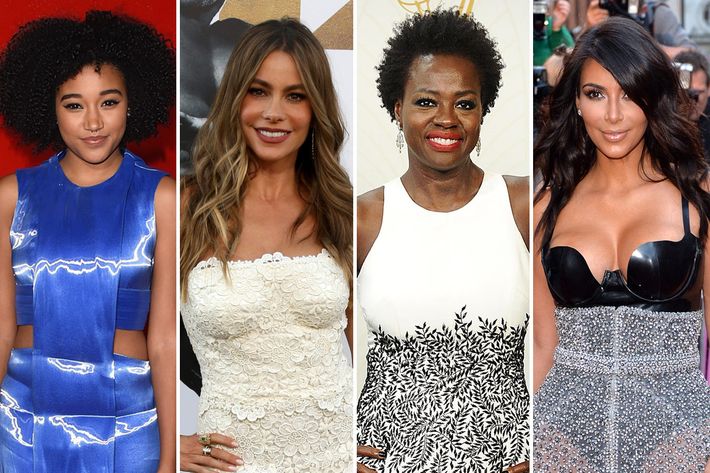 Definition: Soft waves are loose tendrils implemented by a curling or flat iron. They differ from beach waves in that the waves aren't piece-y, but brushed together. Natural curls are just that: The natural texture of curly-haired women. They can be manipulated into curly styles using techniques like twist-outs and roller sets.
Popularity onset: Soft waves: mid-2010s; natural curls: early 2010s.
Celebrity poster child: Soft waves: Kim Kardashian, Gisele Bundchen, Sofia Vergara; Natural curls: Tracee Ellis Ross, Viola Davis, Amandla Stenberg.
Is it expensive? No. Equipped with a YouTube tutorial and a hot tool, soft waves are easy to create at home. The same can be said of mastering naturally curly styles. However, natural-curl salons often charge more than traditional salons for haircuts. Devachan, a curly-hair salon in Manhattan, for example, charges upwards of $125 for a cut.
Preceded by: Straight and chemically relaxed hair.
Pros: Waves and curls are relatively easy to maintain and inexpensive.
Cons: None, really.
There's a welcome simplicity in the ubiquitous hairstyles of today. Loose waves, popularized by the blue checks of Instagram, and as Racked notes, television, are everywhere. The proof is in the market. Specialized curling rods and waves wands, which look like flattened curling wands, are circling beauty counters. A relative newcomer, the Beachwaver is a motorized curling iron preferred backstage at Victoria's Secret shows to construct the archetypal loose wave. In 2014 GHD introduced its first wave wand to market, and later this year, Drybar will unveil its own version. Speaking of the blow-dry phenom, the wavy Cosmo Tai and the Cosmo make up half of all styling requests at Drybar, according to a statement from the salon's rep.
Natural curls, especially within the black community, have also gained widespread glory. A surge of online hair forums in the past decade bolstered their popularity, YouTube and Instagram regulate a steady flow of curly-hair ideas and techniques, and a noted uptick in products and tools catered to address curly hair have facilitated an easy embracement of the natural style. Of course there are the curly brands like Kinky-Curly, Mixed Chicks, and Deva Curl that make curls easy to master at home, but there's a poignant cultural movement at play as well. For so long, curls were derided in popular society, and women manipulated their hair to stymie the natural curvature of their strands. But as the curly-hair narrative flipped, a newfound reverence of individuality emerged. Of course, one can only hope that the celebration of "you being you" is the one popular beauty trend that won't dissolve at the decade's turn.