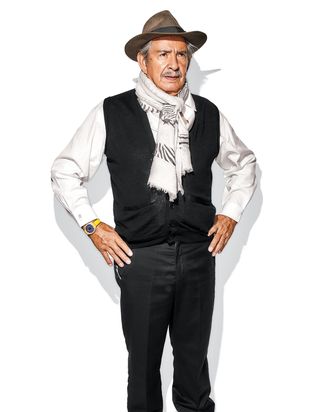 "I find Trump very disturbing."
Photo: Bobby Doherty/New York Magazine
Miguel Angel Ríos, Artist
What kind of art do you make?
I make maps, drawings, and videos about borders, violence, immigration. I am a political refugee — I came to New York from Argentina during the military dictatorship in 1975 — so I find Trump very disturbing. I touch on political things, but my job is to make art. If I become too political, I will stop being an artist and start being a politician.
On another note, I like your hat-and-scarf combination.
I wear both every day. They've become, I don't know, a kind of mark of myself. They're part of my personality. Many years ago, I had invited a group of artist friends to Mr. Chow. They were all seated by the time I got to the restaurant, and the guy at the door wouldn't let me in unless I took off my hat. I refused. I had to tell him that my friends — one of whom was Jean-Michel Basquiat — were going to go to another restaurant if they wouldn't let me in. Finally, he said, "Okay, you can go in." I feel like if I take off my hat, it's bad luck!
Lightning Round
Lives: Between New York, Mexico City, and Paris.
Scarf: "I have about 25, some of which I got at a shop in Soho that doesn't exist anymore."
Hat: "I have a guy in Tucumán who makes them for me."
Favorite New York spot: Lucky Strike.
Last good movie seen: Moonlight.
*This article appears in the April 17, 2017, issue of New York Magazine.