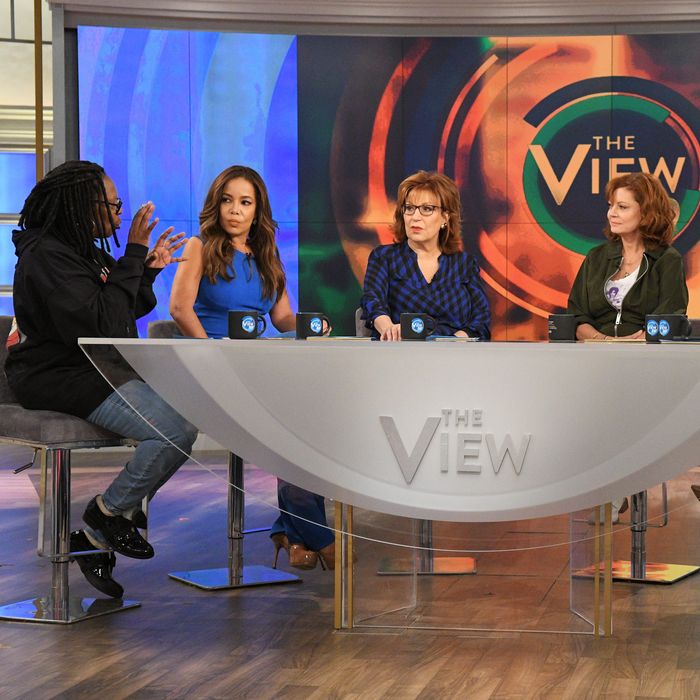 The View has hit a political stride.
Photo: Lorenzo Bevilaqua/ABC
When conservative pundit Tomi Lahren spoke out about being pro-choice, she did it on The View, a daytime talk show anchored by Whoopi Goldberg and Joy Behar with a pretty basic format: A bunch of women sit around a table, drink coffee, and talk about stuff. According to an Associated Press report, appearances like Lahren's — and Senator Elizabeth Warren's, and Representative Adam Schiff's — have helped The View to bypass its competitors, which remain focused on entertainment.
The show, which airs on ABC, renewed its focus on politics thanks to executive producer Candi Carter, who was brought on last February. And its viewers — 550,000 of whom were women 25-54, as of last March — seem to like the shift. Since the beginning of this year, The View's average audience has increased by 1 percent over 2016 while its closest competitor, The Talk, is down 6 percent. The AP highlighted the two shows' different approaches:
The View opened with a discussion on "America's national nervous breakdown," pivoting to the White House visit of Republican U.S. Rep. Devin Nunes, then chairman of the House probe into Russia's influence on the presidential campaign. Next, a talk about Trump's effort to roll back some of his predecessor's climate change regulations.

At The Talk, the show started with the story of actor Russell Crowe gaining weight.

"Talk about news and politics … was the most compelling conversation to be having," Hilary Estey McLoughlin, the show's senior executive producer, told the AP. "Some people watch daytime TV shows to escape … they're not interested in politics and they're not interested in news. But we're finding more and more that they are, and that's why we're growing."