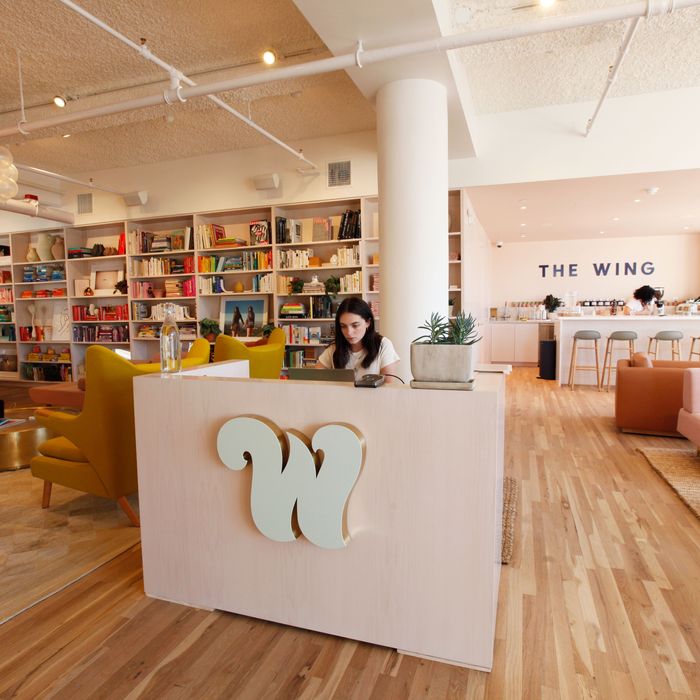 The Wing.
Photo: Edith Young
The Wing, the all-women's co-working space and social club co-founded by former publicist Audrey Gelman, will no longer be limited to its exclusive 650 members. Gelman confirmed to the Cut on Tuesday that if you had been longing to make it off The Wing's three-thousand-person-long waiting list and onto their millennial pink couches, membership to three new locations will become available as early as this fall.
In addition to their 3,500-square-foot penthouse space in the Flatiron District, The Wing will be expanding to locations in Soho, Downtown Brooklyn, and D.C. The first to open will be Soho this fall, and will be followed by D.C. this winter, and Brooklyn at the beginning of 2018. "About 40 percent of our members live in Brooklyn," Gelman told the Cut by phone. "We asked them where they wanted additional spaces. The overwhelming answers were further downtown and in Brooklyn."
Each new space is roughly three times as large as The Wing's flagship location, and will therefore be able to accommodate roughly three times as many members, Gelman said. "We quickly realized we did not have enough square footage to keep up with the interest and enthusiasm around The Wing," she explained — noting that members are "super into" nightly events and co-working among like-minded women — "so we got to work really quickly to expand our physical footprint in terms of new locations in new cities. We'll also be offering new membership tiers that will allow more women to access The Wing and be a part of it."
Applications for membership to The Wing's new locations are being accepted at the social club's website (soon to be complemented by an exclusive internal social-networking app and a members-only perks program), and unlike the club's original requirements, you will no longer be asked to, say, defend your guilty pleasures or describe your female hero on the questionnaire. How will members be determined? "The same way we evaluated applications the first time: by racial and cultural diversity, career diversity, and diversity in the utilization of the space," Gelman said, adding that people on the existing wait-list from September's launch were given first notice of the new locations, though all incoming applications will be reviewed equally. There will also be an option for an "all-access membership, so that [existing members] can belong to all upcoming Wings in the future as they open." Gelman has set her sights on Toronto, L.A., and San Francisco next.

As for pricing, a point that drew ire when the club was announced in 2016, it remains mostly the same: an annual membership will cost members $2,250, or $215 a month (up from the $1,950 opening price), though Gelman pointed out that she and her co-founder are planning to roll out additional tiered pricing and a scholarship program, though the details on those programs are still being worked out.