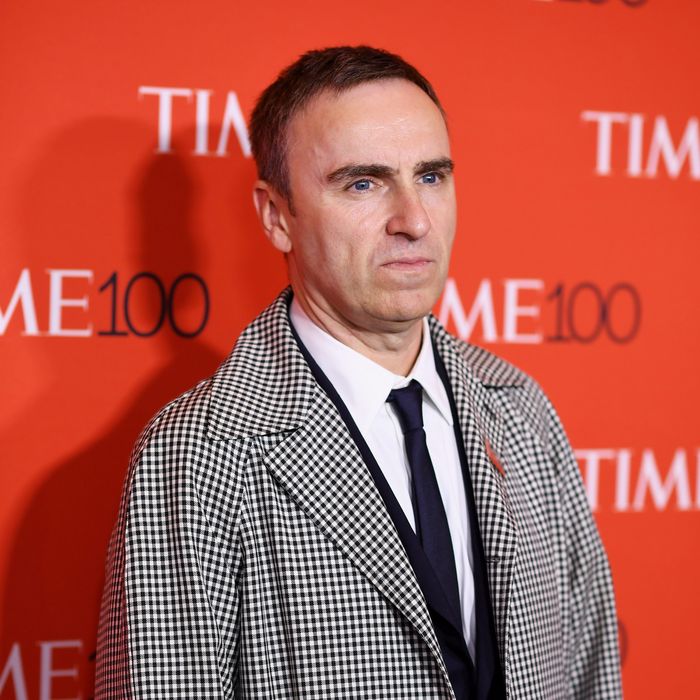 Raf Simons at the Time 100 Gala.
Photo: Dimitrios Kambouris/Getty Images for TIME
As the fashion world watches to see how Dior alum Raf Simons will reshape Calvin Klein, at last night's Time 100 Gala, Simons told the Cut the company hopes to lead the industry in promoting diversity. "I think in this political climate, more than ever, it is important when you have a big voice to speak up," Simons said. "Being in this position with this brand, which has always stood for diversity anyway, I wanted to show that."
Calvin Klein recently cast the men of Moonlight and 70-year-old model Lauren Hutton for underwear campaigns. Simons, who was once criticized for whitewashing runways at Dior, said he is committed to diversity across the company's "runway, message, and campaign."
"[Diversity] is a big part of our dialogue right now," he explained. "I think it should have always been a big part of the dialogue." He said he believes the subject is more relevant than ever before as fashion houses have a larger global footprint with a larger audience.
"As fashion becomes less and less niche and it becomes more and more global, it becomes a big part of the dialogue that surrounds the actual fashion and the actual fashion houses," he said. "Fashion used to be smaller scale and more secluded, and I think it had a very different way of dialoguing with the world. It had a very small audience, but now we are dialoguing with everybody."