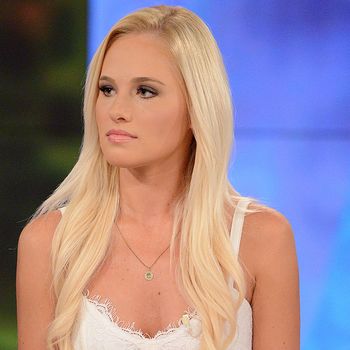 Tomi Lahren was fired for comments she made on The View.
Photo: Lorenzo Bevilaqua/ABC via Getty Images
Tomi Lahren, the conservative pundit who Donald Trump personally thanked for her "fair coverage," is suing her old network and her former boss — the Blaze and Glenn Beck, respectively — for wrongful termination after she was fired for expressing pro-choice views. The lawsuit claims that the drama around Lahren's comments was designed to "inflate Beck's profile, from what has become a mediocre following, all at [Lahren's] expense," according to the Dallas Morning News.
The suit also says Lahren was surprised the comments, which she made on an episode of The View, were an issue at all. ("I can't sit here and be a hypocrite and say I'm for limited government but I think the government should decide what women should do with their bodies," she said on the show.) Officials at the Blaze knew about her pro-choice stance, and "never took any issue with it." In fact, the suit says a Blaze producer went with Lahren to The View taping and "applauded" her performance afterward.
She was "understandably disappointed, saddened, and in shock for being suspended for freely expressing her opinions, which certainly reconcile with what is the law of the land in the United States i.e., a woman's constitutional right to choose and in no way inconsistent with any of [Lahren's] obligations under the Employment Contract," the suit reads.
Lahren is suing to get her contract terminated and for control over her Facebook page, which has more than 4 million followers. "She's ready to pursue her career and reconnect [with] her millions of followers," said her lawyer, Brian Lauten. "She's like an eagle that feels like it's had its wings clipped." Feel better, Tammy.