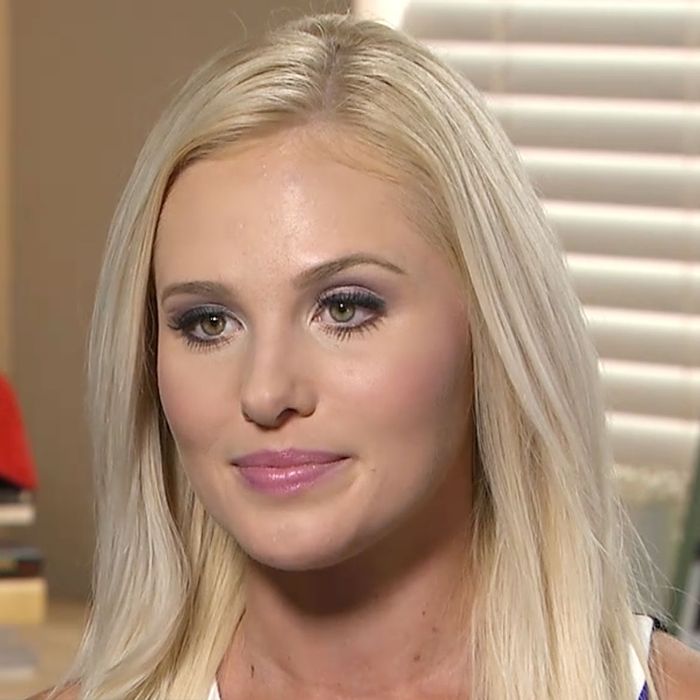 Tomi Lahren got emotional discussing her lawsuit against the Blaze.
Photo: Courtesy of ABC News
After being banned from her network, the Blaze, for making pro-choice comments during a TV appearance, conservative commentator Tomi Lahren feels like "an eagle that's had its wings clipped" — that is, according to her lawyer, who filed a wrongful-termination lawsuit against the Blaze and Lahren's former boss, Glenn Beck, on her behalf.
Lahren is seeking termination of her contract, as well as control over her Facebook page, which has more than 4 million followers. And in an interview with ABC on Wednesday, Lahren said she filed the lawsuit so she can continue her career elsewhere. "I just want to work and have the freedom to put my voice out there, and I want to interact with my fans and my followers," she said. "That's all I want out of this."
But when asked what she'd say to Beck and officials at the Blaze, Lahren got emotional. "To my former employer I would just say, let me go. Let me move on," she said. "I'm deeply hurt by what has happened, I'm disappointed in what has happened, but if this is the way that it is, let's just part ways cleanly."
She added that Beck's decision to kick her off the network "hurts." "This is my life," she said. "Without that, I feel lost."
In a statement released just after Lahren filed her lawsuit, the Blaze said, "It is puzzling that an employee who remains under contract (and is still being paid) has sued us for being fired, especially when we continue to comply fully with the terms of our agreement with her." Guess they missed the eagle metaphor.