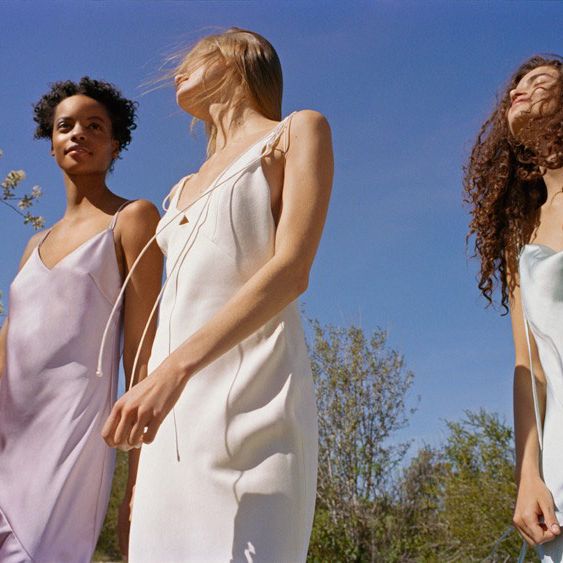 Topshop's bridal collection.
Photo: imacon
There's good reason why the abrupt end of J.Crew's affordable, non-fussy bridal gowns caused an uproar. Weddings are expensive — and not just for the people getting married. We've already profiled a few brands that are able to fill the void of budget-friendly wedding gowns, but Topshop has recently become the latest retail giant to also step into the affordable-bridalwear arena.
The new line, named TOPSHOP Bride, launches today and encompasses not only bridal gowns, but also bridesmaid dresses, lingerie, and accessory categories. Sizes for each dress will range from 0 to 12, with wedding gowns starting from a reasonable $650 for a maxi satin dress t0 $1,500 for a beaded embellished midi dress (which has sadly already sold out). If you're a bridesmaid, gowns will be even cheaper, ranging from $150 for simple slip and floral skater-style dresses, to upwards of $420 for more elaborate floral maxi gowns. While overall pretty affordable, the collection is certainly tilted toward a more low-key bride who maybe is into an outdoor wedding over a stuffy black-tie affair. Nonetheless, it's a reliable option if you're looking to make it down the aisle without the headache of a time-consuming Say Yes To The Dress–level production.
Described online as a "limited edition" venture, the line will also be available for purchase at select Topshop boutiques and Nordstrom stores, where customers can also book complimentary personal-shopping appointments. Scroll below to see some of our favorite styles.